Bol.com
Bol.com is one of the most well-known online shops in the Netherlands and Belgium. Every day, employees of bol.com contribute to the success of the online shop, from various office buildings on the campus in Utrecht. As a preferred supplier, Ahrend is happy to contribute to this. 'From a sudden switch to working from home and a Reshuffle of office layouts, to the design of representative meeting, consultation and training rooms. Ahrend supports bol.com with furniture for optimal hybrid working.'
Ergonomic home office
With the sudden change to remote working, bol.com was faced with the task of providing its employees with a good ergonomic home office within a short period of time. For this purpose, Ahrend developed a personalised webshop using an asset management tool on behalf of bol.com. This tool enabled bol.com to know exactly which employee used which type of home office without having to keep records itself. It was one of bol.com's conditions to be relieved of the responsibility for this, as the need to facilitate homeworking spaces would remain within bol.com. The return to campus in combination with hybrid working, prompted the question: How can we adopt optimal hybrid working on the campus in Utrecht?
Reshuffle
In addition, there was another task: Shifting the focus to meeting in the office, fuelled by the growing use of video meetings and increased collaboration and meeting needs. For the Reshuffle project, the transformation from a more traditional office to a hybrid working environment, bol.com queried the market for solutions for this new concept, based on existing designs: Hybrid working. Ahrend′s interior designer created a colourful selection of furniture, based on the designs supplied by bol.com, that were adapted to the various requirements for the working environment, and tailored to suit the visual identity of bol.com.
'Ahrend supports hybrid working within bol.com with furniture.'
Workplace Management Lead Offices bol.com
A wide range
Martijn Gademan, Account Manager at Ahrend: 'Our wide range of products supports all sorts of needs and working practices. For example, for the bol.com Reshuffle project, we used the entire Ahrend Silence Collection from Chat to Meet. These space in space solutions give employees privacy when making calls and meeting in an open workspace. We facilitate collaboration with Ahrend Balance project tables, and dynamic working with high Ahrend Aero tables, A2020 work chairs and Balance sit/stand desks. You can meet informally with our Napoli and Sett sofas and the Queen armchairs.'
Project management
The range of possibilities and creative solutions were not the only things that stood out during the Reshuffle project. The client also appreciated the project management of the redesign. Martijn: 'This took place in different phases due to the different delivery times. This requires good logistics and planning between Ahrend and the client so that employees are not impacted. At Ahrend, we took care of our client′s needs so they wouldn't´t have anything to worry about. In addition, we collected the surplus furniture from bol.com through the Ahrend Circular Hub for new sustainable use; which is one of bol.com's guiding principles for furniture replacement.'
Partnership
The result of the collaboration was that bol.com decided to enter into a partnership with Ahrend. Ahrend also played a role in the refurbishment of two other office buildings. Martijn: 'OTH Architecten came up with a complete interior design for this project with a beautiful, modern look, focused on internal and external meeting possibilities, and more. Besides working on workstations on a number of floors, also training courses, meetings and creative sessions can take place here. This is partly because bol.com considers getting together on Campus important. The atmosphere on these representative floors supports the purpose of these different types of meetings. This is reflected in the furniture used: colourful, playful with the right balance between formal and informal. It's great to see how Ahrend's furniture contributes to the shop that belongs to us all.'
Bol.com on Ahrend
'Ahrend was able to translate a working practice or requirement into the right interior design and furniture. Ahrend has taken care of us: Remote working, project Reshuffle and representative interior design. They used functional furniture, taking our colour scheme and corporate identity elements into account. Besides offering to take over surplus furniture from a sustainability perspective, the project management was also valuable to ensure bol.com employees experienced little inconvenience. These positive points have resulted in pursuing a long-term cooperation with Ahrend, based on partnership.'
Miranda Reitsma, Workplace Management Lead Offices bol.com
You may also like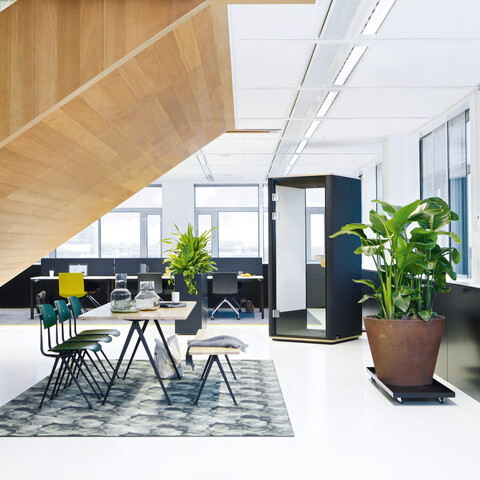 We are happy to help you plan!
Would you like to know more? Contact us for advice without obligation.
More information