Vanderlande, Gebouw 60
Vanderlande is the global market leader in the field of logistical process automation in airports, warehouses and the parcel market. Vanderlande baggage handling systems move billions of items of luggage all over the world through more than six hundred airports. To furnish the new BREEAM Outstanding certified office, Ahrend worked with LA Architecten. 'Ahrend is flexible, has short lines of communication and is always ready to assist.'

Experience
When the main Vanderlande building - also known as Building 50 - was completed in 2016, it quickly became apparent that there would not be sufficient space for the growing workforce. Plans were drawn up for a new building. The bar was set high for this new office building: Building 60 had to focus on the occupants' experience even more than the main office. As a result, employees were given a significant say in how the building would be furnished. The finished building now accommodates, in addition to over seven hundred workstations, an attractive company restaurant, a stylish barista bar, a fitness space and a games room. The building is surrounded by greenery and offers facilities for a range of outdoor sports.
BREEAM Outstanding
As well as substance and experience, other prominent concerns like comfort, sustainability and standard of workmanship were high on the agenda for Building 60. Sanne van de Berg of LA Architecten finds working for Vanderlande a joy. 'Everything is taken into account, from the lighting on the workstations to the acoustics in conference rooms. Neither has Vanderlande made any concessions in terms of the invisible elements such as ventilation, heating and building services engineering. This approach has earned Building 50 the BREEAM Excellent certificate, while Building 60 was certified at the very highest level with BREEAM Outstanding.'
'Ahrend is flexible, has short lines of communication and is always ready to assist.'
From Veghel to Barcelona and Dortmund
We can see this vision of quality in the workstations, which are not only ergonomic and dynamic, but also spacious and calm. Gerwine Saelmans, account manager at Ahrend: 'These are true 'Vanderlande workstations' with their very own look and feel. The essential requirements for the furniture were - and still are - circularity and quality. Vanderlande wants the best available in terms of ergonomics, sustainability and well-being. Ahrend can provide that. I'm proud of the fact that we were asked to take the workstations we used in Building 50 - Ahrend Balance Team Up desks with Ahrend 2020 Extra Verta chairs - and duplicate them not just for Building 60, but also for other projects, for example in Barcelona, and this year Dortmund.'
Acoustic wall made of old conveyor belts
Gerwine worked closely with architect Sanne on the design. 'From workstation design to the boardroom, company restaurant and meeting spaces. Everyone involved wanted the best of the best.'
And that certainly didn't just mean the newest of the newest. For example, Vanderlande wondered if the furnishing could include the reuse of rubber conveyor belts. Sanne: 'We interpreted this creatively with a great deal of enthusiasm. The material is perfect as wall cladding: it was used in a scale pattern in the games room, giving the wall an acoustic function. The quality of the building is due to the interaction of different suppliers, specialists and the people at Vanderlande themselves. A project we can be proud of.'
Vanderlande on Ahrend
'Working with Ahrend is enjoyable. They are reliable and helpful. During the preliminary process, we got together to look at options, comfort, ergonomics and maintenance. They also advised us regarding upholstery and colour schemes. This was all supported by trial sessions involving a range of conference chairs at our office. That was incredibly useful, and ultimately resulted in a golden workstation combination.'
Mariëlle Aldenhuijsen, Facility Manager Vanderlande
LA Architecten on Ahrend
'This was a fantastic collaboration! All of those involved were 100% committed to it, from the entire Vanderlande facilities department to construction managers Altavilla and Phidias, and the Ahrend project team with Satelliet. As we work together regularly, we know each other's strengths and where we can help each other. Apart from its expertise in terms of ergonomics and circularity, Ahrend is also flexible, has short lines of communication and is always ready to assist. Committed partnerships allow us to deliver high quality. And that's borne out by things like the BREEAM certification. I'm looking forward to working together again in future.'
Sanne van den Berg, LA Architecten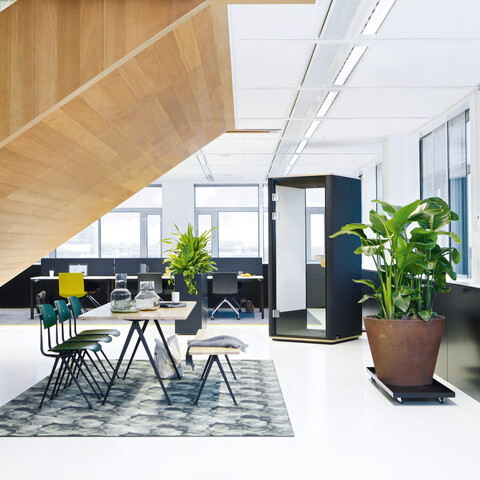 We are happy to help you plan!
Would you like to know more? Contact us for advice without obligation.
More information