Interior design
Making employees work happily, healthily and productively. That's our mission. Well-founded knowledge and years of experience in the field of working styles, well-being, sustainability and acoustics, means our interior designers are in the perfect position to help shape new or existing working environments. All based on your individual needs.
Personal approach
Our studio designs the working environment that optimally suits your employees, ambition and identity. In the broadest sense of the word: from the décor of a single room to the complete concept development of a building. We do this for commercial organisations, the government, health care and educational establishments. From startup to big corporate: every company, every job and every person is different. That's why we're going for a personal approach.
Detailed interior visions
We translate corporate identity, culture and work process into our interior visions. Visions about working environments in which employees are central and can carry out their activities in a healthy and happy environment. In the design process we visualise the working environment from concept to final design and from main objects to details. Sustainability and vitality are key components in our designs
A working environment that suits you
As a partner, we help mapping your goals, ambitions and needs. We do this analysis interactively and throughout the entire organisation. Using different methods, such as workshops, interviews and occupancy measurements.
Based on this data, we design a vital working environment that excel in sustainability and fits with your company. Spaces that promote well-being, facilitate diversity, creates the sense beloningness and increase productivity.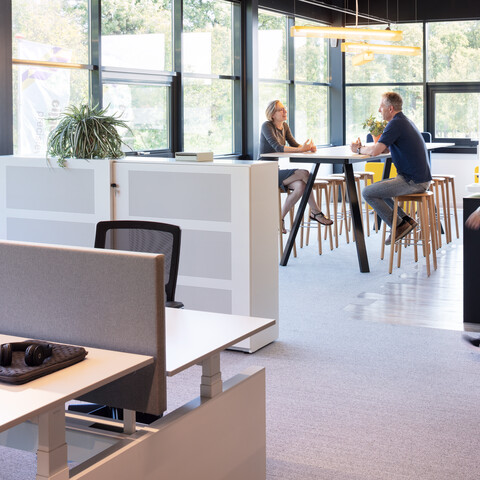 We would love to hear from you!
Do you have a question or would you like more information?
Get in contact