Balance Collection
The Ahrend Balance Collection is a modular desk and table line that offers a solution for every work environment: from solo desks to linked workstations and meeting layouts. There are also comprehensive options for home workspaces. The collection is known for its ease of use and comfort. Environmentally-friendly manufacturing was an important precondition.
Designer Marck Haans
Easy to adjust
The Ahrend Balance Collection also helps you to keep moving while at work. Apart from sit/sit desks and tables, there is a wide range of sit/stand workplaces. There is a custom solution for everyone: the collection offers a wide range of height adjustments using manual and electric levers. The Balance tables even exceed the NPR 1813 standard.
Specifications
Steel frame
Powder coated legs in C-shape, L-shape, duo and duo version
Choice of 11 different paint colours and 4 trend colours
Table top 18mm with HPL Soft Touch finish
Patented quick fix table top
Height range 65 cm - 130 cm
Standards: NEN-EN 527-1,2 and 3, NPR 1813, CE statement, GS Zeichen and Ansi Bifma M7.1
The dimensions can be found in the brochure
Anti-collision sit-stand workplaces
Acoustic panels
Electrics in or on the table top
Ahrend PuK wireless smartphone charger
Clean desk drawer
Flos Kelvin LED lamp with table top access
CPU-holders and (dynamic) monitor arms
Matching storage cabinets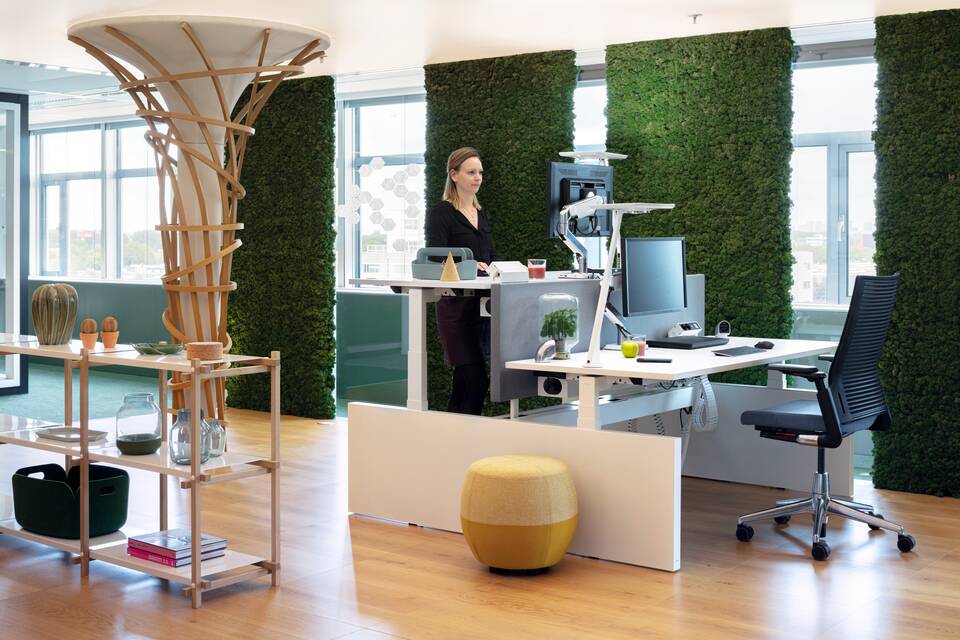 Models and layouts
The desks and tables in the Ahrend Balance Collection are available in a variety of models, from solo and duo desks to bench and corner models. We also provide extension tables and tabletops. Furthermore, the desks and tables are easily linked together. To create more privacy or distance and to dampen sound, we can place an upholstered acoustic screen between the desks. This provides peace, both visually and acoustically.
Style and convenience
The many options in terms of tabletop materials, decors and finish colours ensure that the desks and tables can be matched to the ambiance and style of your office or home environment. The Balance Collection is also very convenient in use, thanks to the range of electrification and cabling options such as the sliding tabletop for straightforward access to the trunking. We can also fit a wireless charging point (PuK) into the tabletop, so that your phone can be charged at any time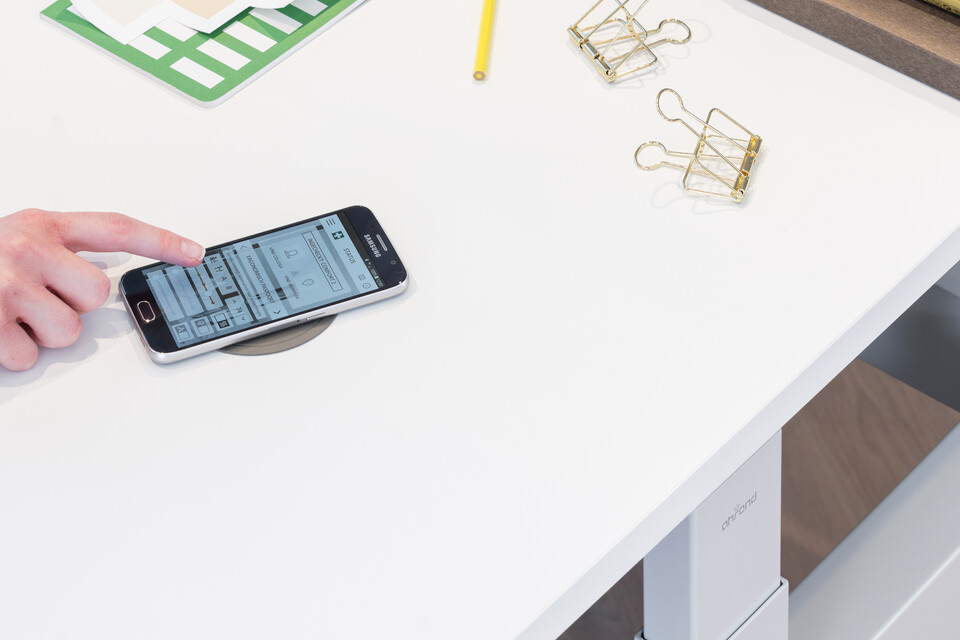 Sustainable solution
We were mindful of the environment at the design stage for this collection. The Ahrend Balance Collection is Cradle-to-Cradle Silver certified. The tables are primarily made of steel (easily recyclable) and finished with solvent-free powder coatings. All of the individual components are easy to repair or replace, which extends the lifecycle of the Balance desks and tables. Also, all the materials can be easily separated for reuse in our manufacturing process.
Versions
New: Balance folding table
Would you like to have greater flexibility within a space? That is easy to create with the Balance folding table.With its simple click system, the tabletop can be folded up in a single motion. The castors make it easy to move and store the table, helping you to create more space.The Balance folding table is available in a range of widths with a tabletop depth of 70 cm or 80 cm.
Manual fast height adjustment
Manual sit/stand fast height adjustment is a solution when electric sit/stand height adjustment is not possible, such as in the case of workstations without electricity or flexible-use desks for example.
A hand crank is common in sit/sit desks, but because of the speed of the rotation this hand crank can also be used for sit/stand desks.
The desktop is continuously height-adjustable using the hand crank (in frame) from 65 to 130 cm with a minimum of 2 to 3 cm per rotation. This type of height adjustment is available with I-leg and duo H-leg.
Revived tabletop
A Revived tabletop is an innovative, circular choice for an Ahrend Balance table or desk. It reduces the environmental impact whilst choosing a robust material with a long life-span.
Compact material (previously known as Ciranol) has been widely used for tabletops in the past. Tabletops made of this material can last up to 30 years. In practice, they are replaced after 10 years on average and the material is lost.
Our Circular Hub takes in around 5,000 used Compact tabletops every year. These are refurbished with a new top layer by an external processor. The now Revived tabletops are ready for their next life cycle. This process leads to a carbon footprint reduction of about 95%. By repeating it, we retain the value over multiple life cycles.