Balance 4 leg
The Ahrend Balance fits seamlessly into Ahrend's rich tradition of design. The Balance furniture line is the new standard for seated and sit-stand workplaces. The slender and thoughtful design, the stable construction and ease of use make this a real Ahrend classic. The Balance 4 leg can be used widely throughout the workplace: both as a fully-fledged desk and table to sit at briefly.
Designer Marck Haans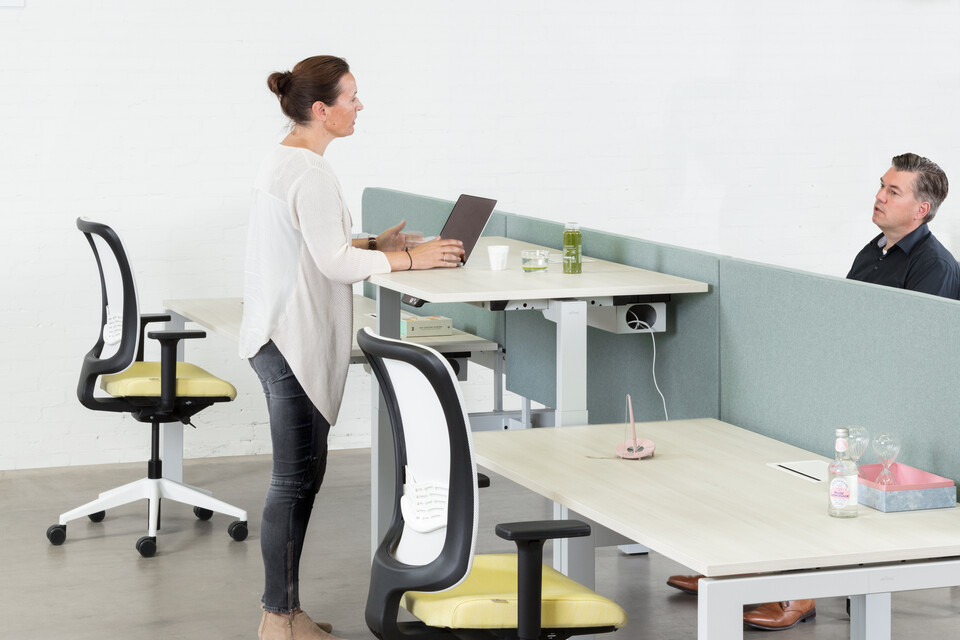 From sitting to standing work
With a Balance sit-stand, simply adjust your desk with the electric control to standing height. Ahrend Balance is available as a fixed height desk, height-adjustable via a crank handle or it can be electrically adjustable in height, both in the sit-sit range and the sit-stand range. Should you decide at a later moment that you would like to go for the benefits of a height-adjustable Balance then we can upgrade your Balance on location to another height-adjustment variant.
Design
A desk you can work at in every way. The Ahrend Balance design is slender and stylish, yet stable and ready for the future; in keeping with Ahrend's rich tradition of design. Configure the Balance to your personal taste by adjusting the legs, table-top and level of privacy: a solo, duo or multiple workplace. In three simple steps, choose from over 1.2 million standard configurations. The Ahrend Balance furniture program is a furniture system with modular construction. This enables custom-made layouts for your office. The modular Balance meets and exceeds all ergonomic standards and has a Cradle to Cradle Silver Certificate, meaning this sit-sit and sit-stand desk makes an ideal workplace for everyone.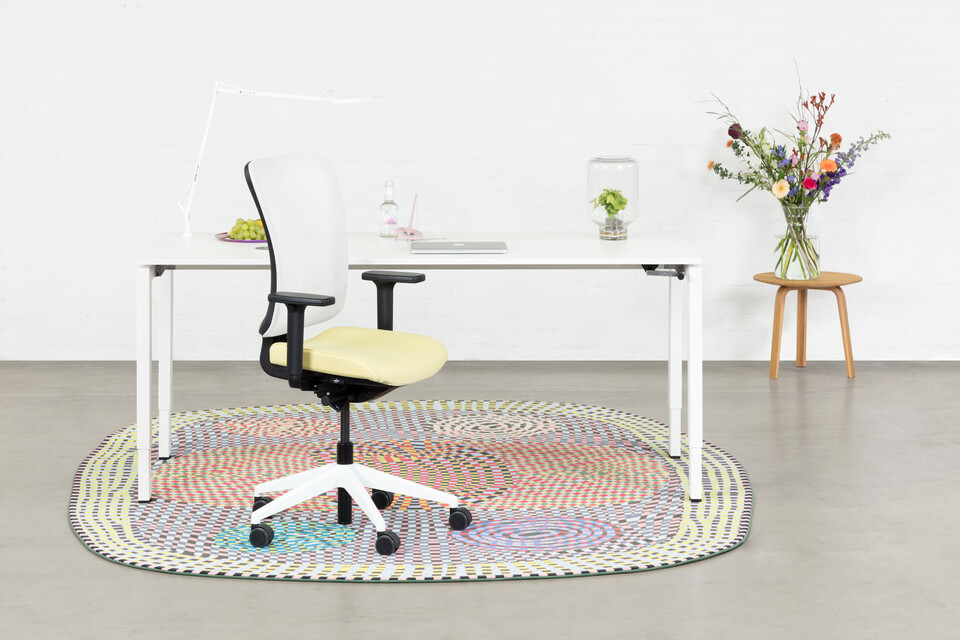 Steel frame
Available in N and A-leg design
Choice of 11 different paint colours and 4 trend colours
Table top 18mm with HPL Soft Touch finish
Patented quick fix table top
Height range 65 cm - 130 cm
Standards: NEN-EN 527-1,2 and 3, NPR 1813, CE statement, GS Zeichen and Ansi Bifma M7.1
The dimensions can be found in the brochure
Anti-collision sit-stand workplaces
Acoustic panels
Electrics in or on the table top
Ahrend PuK wireless smartphone charger
Clean desk drawer
Flos Kelvin LED lamp with table top access
CPU-holders and (dynamic) monitor arms
Matching storage cabinets
'Alternating between sitting and standing during a working day encourage healthy, creative and productive work. 71% of employees feel more healthy and even 46% more productive.'