BDO Tilburg
BDO is an international accountancy organisation with over fifteen offices in the Netherlands. Ahrend often works with M+R interior architecture for this client. A social hub was developed for the new BDO site in Tilburg - an innovative work environment that supports team building, collaboration and knowledge sharing. 'Activity-based and hybrid working have been fully facilitated at BDO Tilburg.'
Flexible Facilities
BDO is the fifth largest accountancy and consultancy organisation in the world. It is also the fifth largest in the Netherlands.
BDO Tilburg is the first office for the BDO South-east sites, and the first BDO office environment with a post-COVID vision of work, with more flexible facilities to support employees in activity-based and hybrid working. This has resulted in a 'social hub' for team building, collaboration and knowledge sharing.
Hybrid Working Community
The emphasis for BDO Tilburg's innovative work environment is on encounters. For this office, we developed an inspiring work environment with a blend of meeting spaces and flexible touchdown and focus workstations.
Rolf Smeets, account manager at Ahrend: 'For a few years now, our designers have been interested in workstations designed for concentration and flexible touchdown spaces. Ahrend has articulated the need arising from the COVID-19 pandemic in its vision for the Hybrid Working Community and translated it into solutions.'
'Activity-based and hybrid working have been fully facilitated at BDO Tilburg.'
Property Consultant at BDO
Social Hubs
Taking into account that Ahrend has previously worked closely with M+R interior architecture at other BDO sites, you can be assured that the perfect team is ready to provide the best possible furnishing of the social hubs. Rolf Smeets: 'We furnished BDO Tilburg with Balance workstations, and these have been fitted with S50 acoustic panels in the site's house style colours, for extra concentration. The desks are matched with Ahrend 2020 office chairs. The meeting rooms have been fitted out with Dutchglobe tables and the restaurant with Ahrend Cross tables.'
Conceptual Innovation
Conceptual innovation is not the only feature of this project. BDO Tilburg is also innovative when it comes to integrating technology into the furniture. For example, the undersides of the desks have PUKs fitted for wireless charging. Rolf Smeets: 'We have also taken vitality into consideration; BDO staff can sit actively on the ergonomic stools with swing effect, or be active on the deskbike. I think it's great that with this project, BDO is setting the tone for the furnishing of its other branches in the south-east of the Netherlands.'
BDO on Ahrend
'The furnishing of BDO Tilburg is an important step towards activity-based and hybrid working. Next year, the offices in Den Bosch, Eindhoven and Maastricht will follow suit. As part of this, the new BOLD office building at Strijp-S in Eindhoven will become the flagship office of the South-East region. The flexible meeting spaces and innovative work environments that Ahrend has created, are distinctive and welcoming. Our employees have plenty of options in finding the perfect space for the type of work they wish to do at any given moment. Activity-based and hybrid working have been fully facilitated at BDO Tilburg.'
- Nicole Rijntjes, Property Consultant at BDO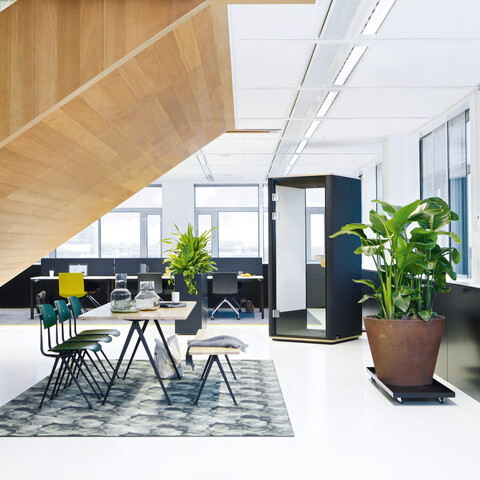 We are happy to help you plan!
Would you like to know more? Contact us for advice without obligation.
More information