Unilever
Unilever's Food Innovation Centre is one of the world's most sustainable buildings.1550 solar panels on the roof, underground energy storage and almost fully circular furnishing - just some of the features that earned this building the BREEAM-NL outstanding certificate in 2019.
Multifunctional building
The Food Innovation Centre in Wageningen works on the sort of innovative solutions that will enable the food industry to feed the growing world population in a sustainable and healthy manner. Close collaboration with a range of partners is vital to this process. The centre is located among food industry start-ups, research centres and NGOs, so these partners are nearby. For that reason, Unilever opted for an open-plan interior. The building's restaurant, for example, is open to everyone for lunch. This has created a buzzing environment, where people mix, swap know-how and ideas and come up with innovative solutions. This is also why the Food Innovation Centre is known as the HIVE.
Circularity
The team of architects and contractors based the building's construction on criteria relating to health, flexibility, energy consumption, choice of materials and circularity. You see this in the form of an energy storage area installed underground, for example. Where furnishings are concerned, 95% of the interior consists of reclaimed materials, mostly from Unilever's previous offices. We made recommendations for the circular furnishing project in consultation with Fokkema Architecten.
Project management
For Ahrend, this project's main challenge on was logistics. Office furnishings from Unilever's other European offices have been re-used in the Food Innovation Centre. As a result, the entire furniture stock had to be checked and listed. In the process, we recorded the condition of the furniture and whether cleaning or repurposing was needed. We also had to ensure that the furnishings matched the colour plan for each floor. Wherever new furniture was required we were able to advise Unilever on furnishings made from fully circular materials. Like Ahrend, Unilever is a member of the McArthur foundation.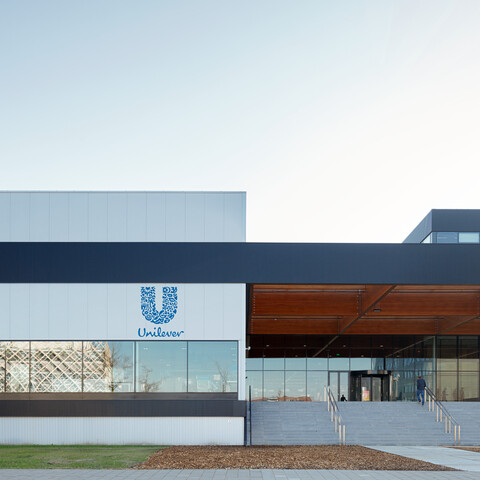 We like to help you find solutions!
Are you thinking of creating a sustainable and open working environment like Unilever's?
Get in touch