Rijksontmoetingskantoor
The new Rijksontmoetingskantoor (Government Meeting Office) in Amsterdam combines many functions, encourages vital and hybrid working and connects civil servants from different departments and administrative bodies. Ahrend created the innovative design and took care of its development. 'Ahrend has interpreted our wishes and requirements well: the Government Meeting Office helps us achieve our goals.'
Meeting and working (together)
Following a mini-competition between three potential suppliers, Ahrend was commissioned to establish points of departure for the furnishing design for future Government Meeting Offices. The proposed design consisted of a meeting plaza surrounded by different conference rooms. This Government Meeting Plaza, with coffee and food corners, is suitable for meetings between individual persons as well as team meetings of up to 25 persons. The conference rooms match the design and support a range of functions: from collaboration, brainstorming and scrumming to meeting and team-building.
Initial design implemented unchanged
Together with our client and various suppliers, we sought an integral design approach for the meeting plaza. Edith Kusters, interior designer at Ahrend, decided to create a rugged look for the meeting plaza: the industrial-looking ceiling was a perfect fit with this. The client followed our recommendation of replacing the floor to emphasise this look. Furthermore, each point of departure was checked against the client's wishes and requirements and interpreted to create an ergonomically-responsible design and an attractive, functional layout. Edith Kusters: 'What was unusual was that the client didn't change anything about our initial design. Only the location of the coffee corner changed.'
'Ahrend has created an environment that contributes to the connection between civil servants.'
Hybrid working in a vital environment
The Amsterdam Government Meeting Office is a pilot. As well as facilitating meetings between various civil servants the new locations must also contribute to their vitality. Edith Kusters: 'The government wants people to be on the move both literally and figuratively. That's why these locations are in central locations, for example near public transport hubs. It's an easy place for officials from different areas of the government to meet. In this way these meeting plazas support hybrid working. These places will further broaden the new working in addition to the office and home.'
Reuse
There's also an emphasis on reuse with the government's innovative work environment. For example, Ahrend's reuse of materials and furniture contributes to the government-wide 'Circular Netherlands in 2050' programme.
Edith Kusters: 'We have used a lot of Ahrend products. These are circular for a significant part. But we've also used sustainable designs like the Revolt chairs in the library. These chairs, designed by Friso Kramer in 1954, are timeless. And the tables in the Government Meeting Plaza consist of used Ahrend bases with tops made from recycled clothing.'
From interior design to completion
This project is not solely characterised by conceptual innovation. We have also shown that Ahrend can be versatile. Edith Kusters: 'Not only do we offer ergonomic and circular furniture, but we provide complete design proposals that we then implement ourselves. From design to furnishing and from bespoke furniture to cable management. Ahrend has completed this project with several parties and a lot of enjoyment. We hope that the civil servants enjoy working (and collaborating) here just as much as we have with our client and suppliers.'
The Government on Ahrend
'Ahrend's added value is that they are good at interpreting the goals we wish to achieve to create a design that helps us reach them. It's great that the partnership went well, but the result is even more important.
Our new Government Meeting Office has a vital work environment in the form of an attractive meeting plaza. Ahrend has created an environment that contributes to the connection between various civil servants and our hybrid way of working. An innovative design that we anticipate will be used intensively once we can get back to the office.'
- Juul van 't Hooft, product manager/vitalogist, Government Facility Group Services Provider
You may also like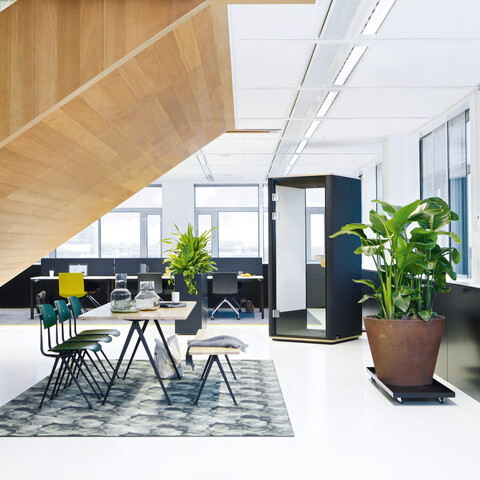 We are happy to help you plan!
Would you like to know more? Contact us for advice without obligation.
More information