Nederlandse Vereniging van Makelaars
NVM (Dutch Association of Estate Agents) was in search of sustainable furnishings for its new headquarters in Utrecht: Timeless design, circular materials and with a long lifespan. Heembouw Architecten provided the foundation for the interior design plan. Ahrend completed the interior design for hybrid usage, using revitalised and circular furniture. "The result fits perfectly with the purpose and atmosphere of our new office."
Work, meet, learn
NVM's new office building accommodates the office organisation, the Academie voor Vastgoed (Academy of Real Estate), the holding company and a number of subsidiaries. The heart of the organisation is located in the glass atrium in the middle of the building. This open space is like a 'living room' with space for interaction and meeting: for employees, trainees and business contacts. The atrium connects the offices, meeting rooms and training rooms. This design provides space to work, meet and learn. 
Wellbeing and sustainability
In addition, a great deal of attention has been focused to sustainability in design, construction and furnishings. The building is cooled by means of electric power and heated using heat pumps and climate ceilings. Sustainability and circularity are taken into account in all choices of material. The optimal indoor climate is not the only contributor to wellbeing. The furniture also provides vitality during the working day. For example, NVM opted for a sit/stand desk in every workplace. Hybrid working enhances dynamics. Because of the remote working policy, employees primarily come into the office for collaboration and meetings.
'Pleasant collaboration with an interior design partner who pays attention to sustainability, budget and planning'
Interaction and concentration
Eric Janmaat, Account Manager at Ahrend: 'Therefore, the design had to facilitate interaction in various ways, such as (video)calls, collaborations and meetings. In addition, we needed spaces for focussed and undisturbed work. Various pieces of furniture from the Ahrend collection meet all those different requirements: from Balance sit/stand desks with Ahrend 2020 office chairs, Ahrend Concentration Corners to customised meeting tables by Casteleijn, and Revolt chairs to Engage sofas for the restaurant. We have created a total of 158 workplaces: 63 duo and 32 solo.'
Flexible multifunctional spaces
In addition to hybrid working in a vital working environment, NVM had another request: flexibility. Edith Kusters, interior designer at Ahrend, developed a plan with different zones for focussed work, meetings and collaborations. The smart use of flexible walls, acoustic boxes and (plant)cabinets created multifunctional workspaces that can be changed easily. Eric: ′For example, employees, visitors and trainees use the spaces around the atrium for (project) discussions and focussed work. Outside lunchtime, people can work together in the restaurant or organise meetings and discussions.′
Revitalisation of used furniture
The sustainability question from NVM was prominent: What can we use from our old office? Eric: ′We checked all their furniture and, if necessary, thoroughly cleaned and revitalised it. Some conference tables and restaurant chairs came along without any adjustments. We upholstered approximately 80 Ahrend A340 meeting chairs using corporate colours. All surplus furniture will get a new lease of life through our Circular Hub′s Revived label.'
The outcome is pleasing. Willy van Bart from NVM: 'Layout, interior design and furniture perfectly match the reasons for the new construction.'
NVM on Ahrend
'The office had to become our new 'clubhouse'. Meeting and collaborating play an important role. The challenge was to optimally support hybrid working by using a flexible layout, interior design and furniture. It is great that we were informed really well during the selection process in the Ahrend showroom and in reference projects. Test setups have ensured that we now have optimal workplaces. Eric and Edith closely studied our design brief and took us through the possibilities and alternatives. I worked well with an interior designpartner who also kept an eye on sustainability, budget and planning. The collaboration was pleasant and the result is attractive and optimal. The whole building has a relaxed atmosphere and all the workplaces are used intensively and in the right way.'
Willy van Bart, Facility Manager NVM
Other points of interest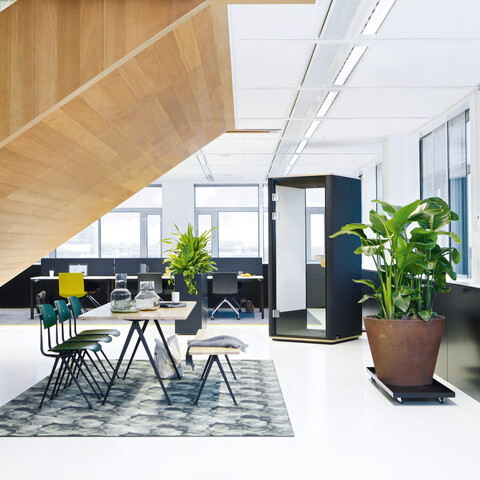 We are happy to help you plan!
Would you like to know more? Contact us for advice without obligation.
More information