Het Parkhuis
Het Parkhuis in Dordrecht is the regional centre of expertise for people with dementia, Korsakoff and gerontopsychiatric problems. During the construction of the new Haaswijk location, the office environment was also redesigned to allow for activity-oriented work. A brainstorming session led by the Ahrend interior architect, the company Quadrant Architecten and employees of Het Parkhuis resulted in a vibrant working environment with various zones. ″Working here is pure joy, every day!″
Activity and need
The Parkhuis offers personalised care and support for three different target groups. Haaswijk is the newest building at the main location, built and furnished with small-scale living for people with dementia in mind. Both elderly and young people with dementia are living across the three floors. Part of the Haaswijk building also offers workspaces and meeting rooms. All employees and volunteers can find a workspace here that suits their activity and their personal requirements at that moment.
From meetings to power naps
Haaswijk′s hybrid working environment has three zones: A social zone including a coffee corner and open and closed spaces for meetings and get-togethers, a green zone for quiet work with background noise, and a quiet zone where people can even take a power nap.
Warner Raspe, Segment Manager Healthcare Ahrend: ″Het Parkhuis wanted to get the interior designer′s vision at the tender stage. Ahrend has specific views on vitalising working environments. We can further define these once we know the underlying question.″
'″The workshop with the Ahrend interior architect delivered new insights″'
Manager Supporting Services at Het Parkhuis
Workshop with users
To gain more insight into this question, Marianne Wind, Interior Architect at Ahrend, mapped out the various activities, working methods and needs in a workshop, together with employees and the architect. This led to an adjustment of the original concept. Warner: ″During the selection phase we already gave some constructive feedback. We showed that a different interior design would better suit the various activities and needs of employees. Whereas one person may work better in a lively environment, another may need silence for better concentration.″
Acoustics improve vitality
During the session, Ahrend also showed that acoustics have a positive impact on the vitality of employees. This has led to the use of Ahrend Retreat screens and Silence Call and Qabin Chat boxes. Warner: ″The spaces have also been furnished with sit and sit/stand tables: Ahrend Balance (Scrum) and Aero1200, with adjustable Ahrend 2020 and Ease chairs and Ahrend Well stools. When employees want to recharge both mentally and physically, they can do so for ten minutes on the Loungescape Powernap which we positioned in the quiet room. We have perfect space for everyone at any time, and for any need.″
The client on Ahrend
″We connected with Ahrend through Intrakoop, a cooperation that concludes interesting contracts with suppliers on behalf of healthcare institutions. Their critical thinking, clear vision on interior design, vitality and hybrid working, really appealed to us, as did their expertise in the field of acoustics and dynamic working. The workshop with their interior architect and our architect delivered new insights and led to an adjustment of our original plan. Ahrend listened really well and asked detailed questions about the purpose of the assignment. This working method was very pleasant; choices in interior design, furniture, materials and colour were made in collaboration. We are really satisfied. Not only employees but also visitors love the whole experience. Working here is pure joy, every day!″
Esther Yedema, Manager Supporting Services at Het Parkhuis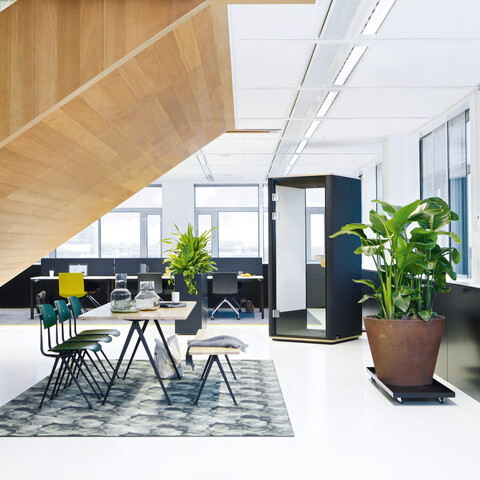 We are happy to help you plan!
Would you like to know more? Contact us for advice without obligation.
More information