Silence Call
The Ahrend Silence Collection consists of the latest generation of space-in-space solutions that bring silence back into your work environment. Opt for more focus, peace and creativity. The Silence Call is the ideal place for a telephone call without disturbing your colleagues. Or to retreat for a moment to work something out.
Designer Basten Leijh
Silence in the open working environment
Work environments change quickly. With open-plan offices, flexible spaces and multimedia, we're more connected than ever. But at the same time, we're more distracted and stressed than ever. Space-in-space boxes such as the Silence Call bring silence to the open working environment.
'The Silence Call brings silence back to our workplace. For increased creativity and greater focus.'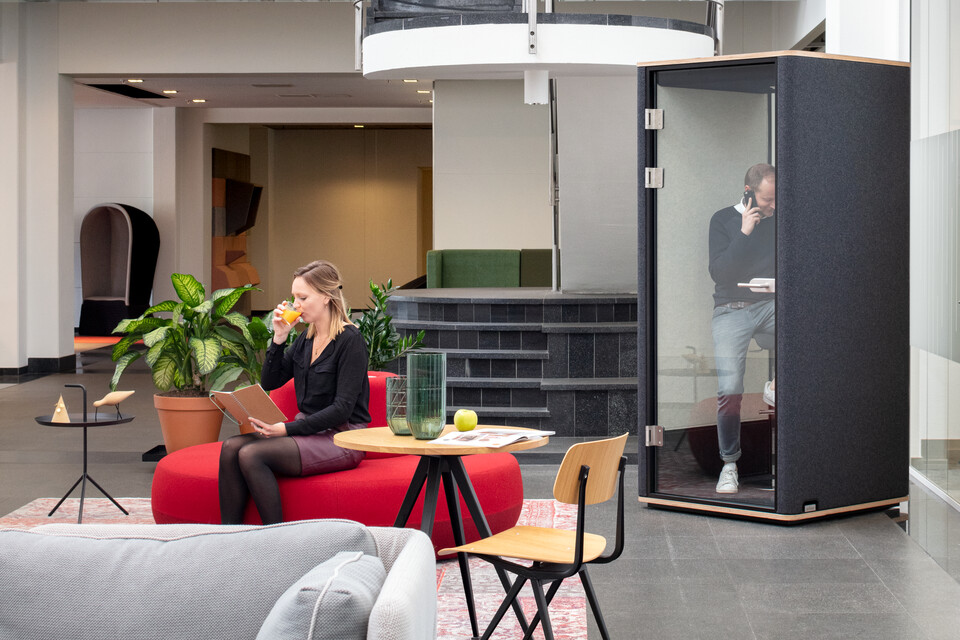 Flexible work environment
The Silence Call offers sufficient flexibility to adapt the setting of your work environment without having to make major changes. With the aid of its castors, the Silence Call can be easily moved around to suit a changing office environment. Flexibility and privacy are assured. The glass screen allows you to stay in contact with what's around you.
Personal climate
When you enter the Silence Call you immediately experience peace and silence, without feeling claustrophobic. The Silence Collection has been designed with a perfect balance between ventilation and acoustic properties. You can set the silent ventilation, which provides a gentle breeze, to suit your needs. Furthermore, the Silence Call is one of the best insulating products on the market. The total noise reduction means that your calls cannot be overheard outside the box. In other words, this means privacy inside the Silence Call and no noise for other colleagues in the work environment. That's a comfortable way of working - even for longer periods.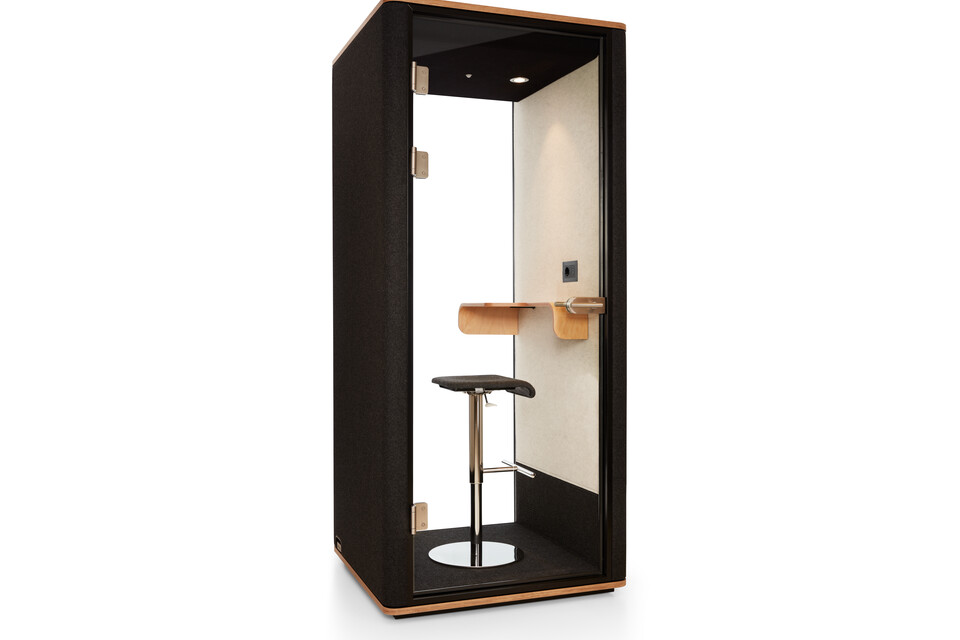 Your own look
Create the look you want with the Silence Call, in keeping with your corporate identity and the rest of the work environment. Choose from over 120 stunning colours in the Kvadrat Divina, Divina MD and Divina Melange fabrics, or go for the Gabriel Soul Melange.
Specifications
The basics

Sensor automatically activates light and ventilation
Ergonomically-designed table for the use of mobile devices: 100% Plug & Play
Standard electrification: 1 power socket and 2 USB chargers
Integrated castors make it easy to move around
Interior wall finish: 2 colours of soft and sound-absorbent felt
The options

Add an optional, height-adjustable swivel stool
Tabletop is available in three different finishes: black, white or oak
Exterior fabric is available in Kvadrat Divina, Divina MD and Divina Melange (over 120 colours) or in Gabriel Soul Melange