Nova College
Nova College has been training people for a range of vocations for over 25 years, from healthcare to shipping and from personal grooming to logistics. While we usually assist this educational establishment in furnishing learning environments and making them sustainable, this time we were asked to furnish their offices under the guidance of UP Architecten. We supplied and refurbished hundreds of workstations for the support services' new base. 'It's great to contribute towards hybrid working and a vital work environment.'
Recommendations for reuse
Nova College, in Haarlem, Beverwijk, Hoofddorp, IJmuiden and Harlingen, is a familiar name in intermediate vocational training. In addition to this regular education, Nova College also supports the completion of secondary vocational training and helps with choosing courses. What all of these activities have in common is an interest in sustainability.
Stijn Lowiessen, Ahrend account manager: 'We have also given advice on reuse in the case of this project. For example, we've entered into a long-term contract to revitalise furniture. In this way, we are contributing to this training provider's circular mission.'
Supporting new ways of flexible working
For this project, we've made recommendations regarding the architectural design. 'In the case of Nova College, we often act as both interior designers and furnishers. For the furnishing of the offices and meeting rooms for the support services, the architect made those design and interior decisions, and our expertise was in the domain of sustainability and hybrid working. Nova College has introduced semi-flexible working in this new office setting: a combination of home working and shared workstations at the college. It's great to be able to support such a change in working methods with our products.'
'Low and high Aero tables contribute to a vital meeting and working environment.'
Sustainable reuse
We were able to put our knowledge and experience to use mainly in the field of sustainability and reuse. For example, we have replaced the tops of the existing desks. Used office chairs have been revitalised. Stijn Lowiessen: 'It's satisfying to be able to work with a fixed furnishing plan in a way that is both tactical and circular. It was exciting to act as linchpin and support the architect and client as an 'interpreter' between the two parties.'
Vital meeting space
In addition to the refurbishment of used office furniture, Ahrend has also supplied new products. 'We have recommended low and high Aero tables, for example, which can be used for working and meeting interchangeably in seated or standing positions. This contributes to a vital work environment. We're also using Ahrend's Revolt, Result and Ahrend 314 chairs, as well as products from the likes of Hay, Normann Copenhagen and Arper. It was an enjoyable collaboration and I'm proud of the result we have achieved together.'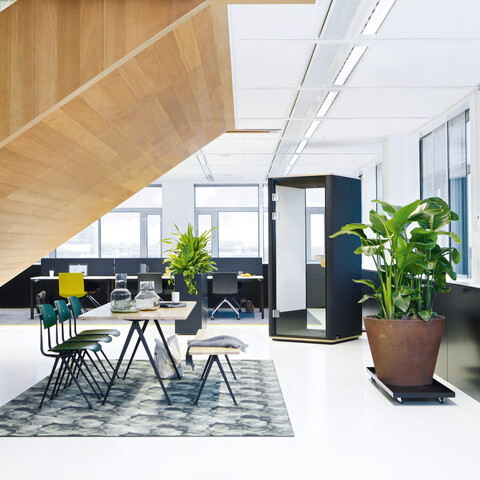 We are happy to help you plan!
Would you like to know more? Contact us for advice without obligation.
More information