Nieuwe Universiteitsgebouw at Vrije Universiteit
Vrije Universiteit Amsterdam has opened up its multifunctional building Nieuwe Universiteitsgebouw at Zuidas in phases. As well as the offices and teaching spaces, the Atrium with its public functions has also now opened. Ahrend took care of all of the circular furniture and, in partnership with the Team V architecture firm, developed flexible-use bespoke furniture.
Office and teaching
The Nieuwe Universiteitsgebouw (New University Building - NU building) covers more than 31,000 square metres for three different functions. The high-rise building with views across Amsterdam houses the offices for staff, employees and lecturers. This section was brought into use at the end of 2019. The education section in the 'middle' of the tower block opened in mid-2020 and has been fully occupied since the start of the new academic year.
Both standard and custom
All of these spaces have been furnished using mainly Ahrend furniture. Joost Bonnema, NU building project manager, explains that Ahrend was granted the campus framework contract as well as the project tender for all VU buildings.
'We really want good, reliable and ergonomic furniture for our employees, students and visitors. In addition to the standard work, suppliers must also have expertise in and capacity for custom work and modification, and we are keen to work with a partner who can offer advice, from interior design to circularity. Ahrend had the best price/quality ratio and test score!'
''We are keen to work with a partner who can offer advice, from interior design to circularity.''
NU building project manager
Breeam Excellent
Circularity played an important part. Almost all of the new furniture is C2C. Bonnema: 'We adopted a smart and well building standard for the new construction. We aimed high and it has paid off: the NU building has been certified Breeam Excellent. Sustainability aspects have a great bearing on these certificates. And that covers a very wide range of topics: from sustainable systems to CO2-healthy spaces and from circular construction materials to Cradle2Cradle furniture. Ahrend also has great circular expertise.'
Advice and bespoke work
Bonnema was pleased with the advice and the options that Ahrend offered for the so-called teaching workspaces. 'These spaces have unusual furniture requirements. Ahrend demonstrated that they work effectively and closely with partners who can provide bespoke work, for example linked desks winding their way through the study space. We are pleased with the adaptability of the existing products. For example, the bespoke picnic tables have a bamboo look and the acoustic concentration corners have been designed in special fabrics and colours in consultation with the architect.'
Adapted teaching furniture
Another aspect of Ahrend that suits this project perfectly is that they can supply everything. Not just the desks and tables (Balance, Aero, Cross and Pyramid) and chairs (Well, A2020 and Result), but also adapted teaching furniture. Peter Coelewij, Ahrend account manager: 'We have adapted A314 multifunctional tables with specially integrated power points and flexible cabling. The catering furniture is also custom-made. Most of it is from the Ahrend collection but third-party furniture has also been used (Hay, Casala and Arper).'
A single point of contact
In addition, the NU building project manager enjoyed the availability of services like cable management, short-term storage and temporary furniture. Bonnema: 'The nice thing about this long-term project was that we've always worked with a single contact who has been aware of everything that is going on. That means close contact and the ability to respond quickly to prevent problems. For example, there was a fire at a factory where the chairs were made. Peter Coelewij came up with a good response to that with temporary furniture.'
Vrije Universiteit on Ahrend
So how is it? Bonnema: 'The office workers are happy. We already knew that: they have been able to try out test placements of various workspaces and have had a say in the final choice. The teaching part has also been a great success: all the study stations are always occupied. And actually, the same applies to the hospitality section in the Atrium. Especially now that the theatre and film spaces have opened for use. It's great to see that outside visitors know where to find the NU building.'
- Joost Bonnema, NU building project manager
You may also like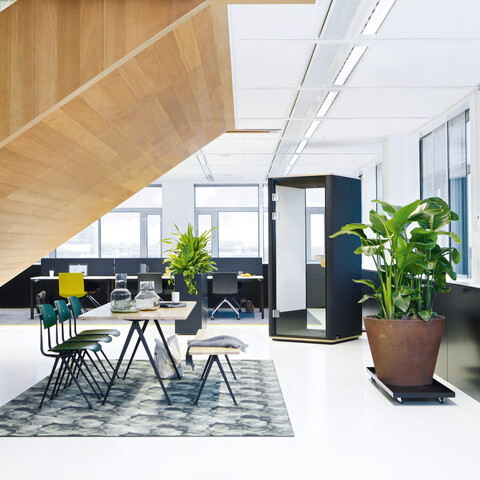 We are happy to help you plan!
Would you like to know more? Contact us for advice without obligation.
More information