Vandemoortele
Food supplier Vandemoortele has created more than a main office. The new building is an impressive Food Experience Center based on sensory experience, flexible working and sustainability.
Attention to experience
Vandemoortele is a food supplier with establishments across Europe and headquarters in Ghent in Belgium. The company's mission is to set trends in the kitchen, at the table and on the road. It is all about delivering the ultimate taste experience, and this was the idea behind the creation of a new main office. It would have to appeal to the senses of taste, sight, smell and touch. No everyday task for Ahrend, because they had two roles to play in this project. Not only did they supply the furniture, but as interior architects they were also responsible for the 'look and feel' of the building. This meant choosing the materials, finishes and floor colours. A wonderful and challenging project, in which Ahrend was allowed plenty of leeway.
A rapidly growing business
The biggest challenge was the availability of space. The floor area wasn't exactly vast, so it had to be used to best effect. It also had to satisfy the requirements of the various departments. It was also essential that the space be divided in a way that offered flexibility for the future, as Vandemoortele is a rapidly-growing business. Sustainability was another important aspect of the building's completion. Ahrend rose to the challenge by making use of the existing cabinets in a circular fashion. When it came to the furniture, Ahrend supplied sit/stand desks, meeting tables, team tables and planters. All in all, 360 workstations were created.
'You sense the dynamic as soon as you enter the building.'
Vandemoortele on Ahrend:
"We thought it was important to take on a partner that could walk us through a completely new way of doing things. Ahrend did this extremely well. We were used to working at two locations and in a fairly traditional way. The employees had their own offices so it was easy to shut doors, and people were in the habit of working individually. For many employees, the transition to a new head office based on open spaces, digital working and flexible offices was a huge mental switch. Ahrend guided us through the entire process. They organised sessions for employees to express their ideas and expectations, and they managed to get people involved in the overall change. We've been in the Food Experience Center for about five months now, and what struck me at the very beginning was the building's dynamic, feel and flexibility. Employees and clients meet formally and informally in the open spaces and working areas. On this project Ahrend was a good sparring partner. The fact that they challenged us to go the distance on this major relocation was of real benefit to us. They got us to engage fully, and that was what we needed."
- Inge Corne, HR Director Belgium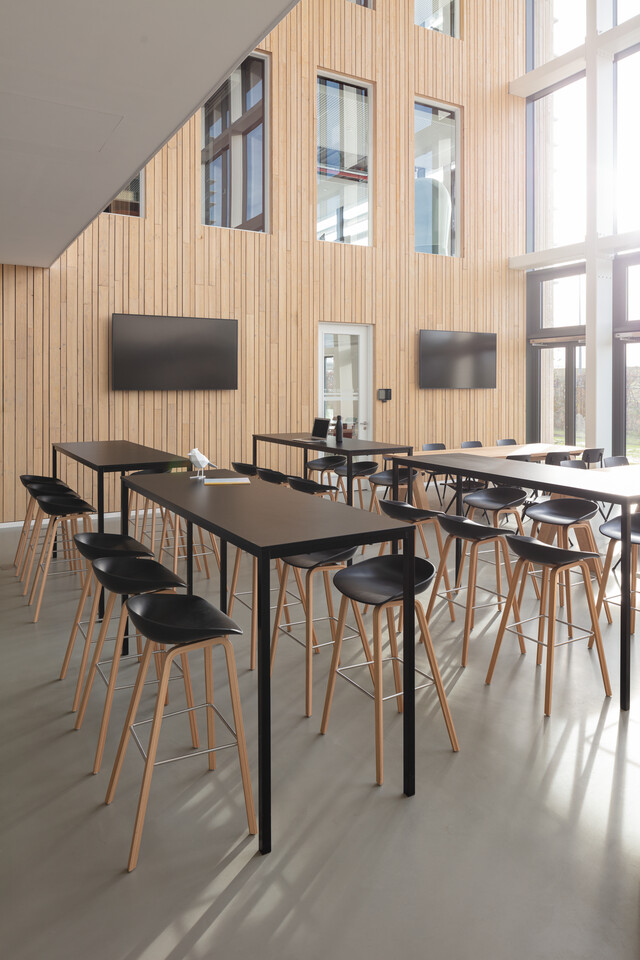 We like to think along!
Do you want to work in a sustainable and open working environment like Vandemoortele? Contact us for non-committal advice.
Get in touch