Space-in-space
In many organisations, we see a growing need for places to talk and make (video) calls within an open-plan environment without disturbing others in the vicinity. It is also nice to be able to work in seclusion, with more focus and concentration, as and when determined by a given activity. For that reason, Ahrend has developed three types of Space-in-Space solution: the Flexbox, the Qabin Collection and the Silence Collection. Each has its own advantages. The common factor is that privacy and flexibility are guaranteed.
'The Space-in-Space boxes have given everyone in the open office environment a chance to work comfortably and concentrate fully.'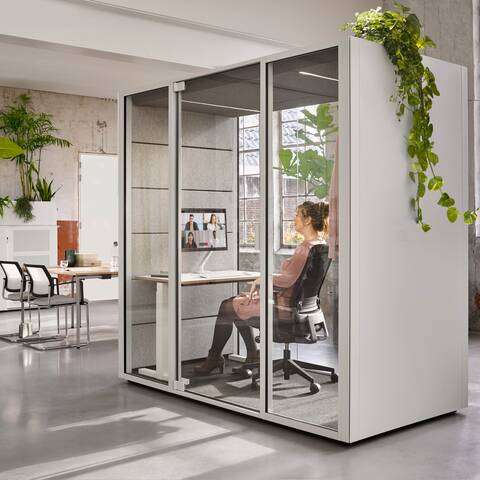 Video calls and hybrid working
Work environments are changing rapidly. Video calls have become a permanent fixture of everyone's working day: video meetings often take the place of business trips. It also makes more sense for employees to work from home (as well as the office), and to reach out to each other, their clients and their business relations from there. This has implications for the central work environment. We expect many workplaces to evolve towards Hybrid Working Communities in the years to come. More than ever, the office will become a central meeting space. But, at the same time, it must give employees the space to concentrate on their work whenever necessary, or to talk with colleagues and make (video) calls.
Focus and peace for all
Different activities often take place in the office concurrently, and each generates its own level of noise. When employees share an open office space, they find that noise is often the most irritating nuisance. The provision of ample space for (temporary) seclusion helps achieve the right balance in an open-plan workplace. The dramatic increase in video calling alone requires a solution that enables employees to hive off from their colleagues. And that means more creativity, more focus and more peace for all.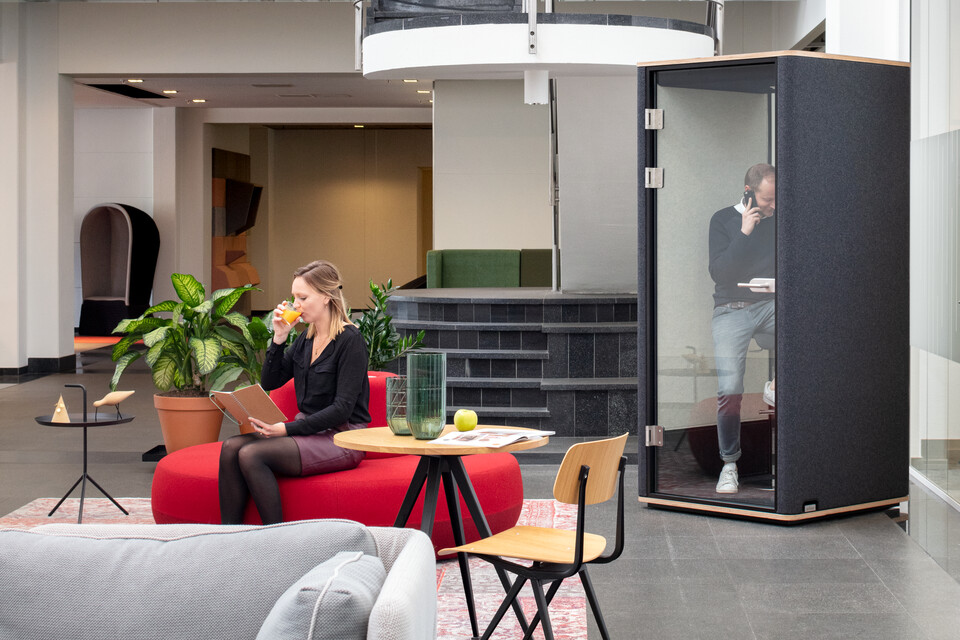 Ventilation
Best in ventilation in the market
Acoustics
Top class acoustic qualities
Flexibility
Flexible (re)design of your working environment
Your own configuration
Our space-in-space collections come with endless possibilities. Play with interior, type of upholstery, color; choose the perfect match for your work situation. Whatever configuration you choose – privacy, focus, creativity and flexibility are guaranteed.
Exceptionally good ventilation
Ahrend has years of experience in the development of Space-in-Space solutions: transparent, enclosed spaces placed within a working environment. The boxes in the Qabin Collection, Silence Collection and Flexbox range all guarantee a pleasant interior climate. Step inside and experience the immediate sense of peace and quiet without feeling stifled. The boxes are exceptionally well ventilated. Designed not to echo or boom inside, they allow users to work and talk in lasting comfort, no matter how long they spend in the Space-in-Space box.
Keen to try it for yourself?
Visit our showroom. Book an appointment here.
The advantages

Flexible (re-) arrangement of your working environment
Space to concentrate on the work
Video calling without disturbing colleagues
Supports hybrid working
Small group consultations in seclusion
Better overall acoustics in the working environment
Which box fits best?
Ahrend offers a choice between three types of acoustic boxes: the Flexbox, the Qabin Collection and the Silence Collection. The choice of box for your organisation or specific open space will depend on the ambient noise level. The quieter the space, the higher the speech intelligibility, and the greater the need for sound insulation. Obviously, the opposite also holds true. We are happy to visit your location and help you identify the best solution.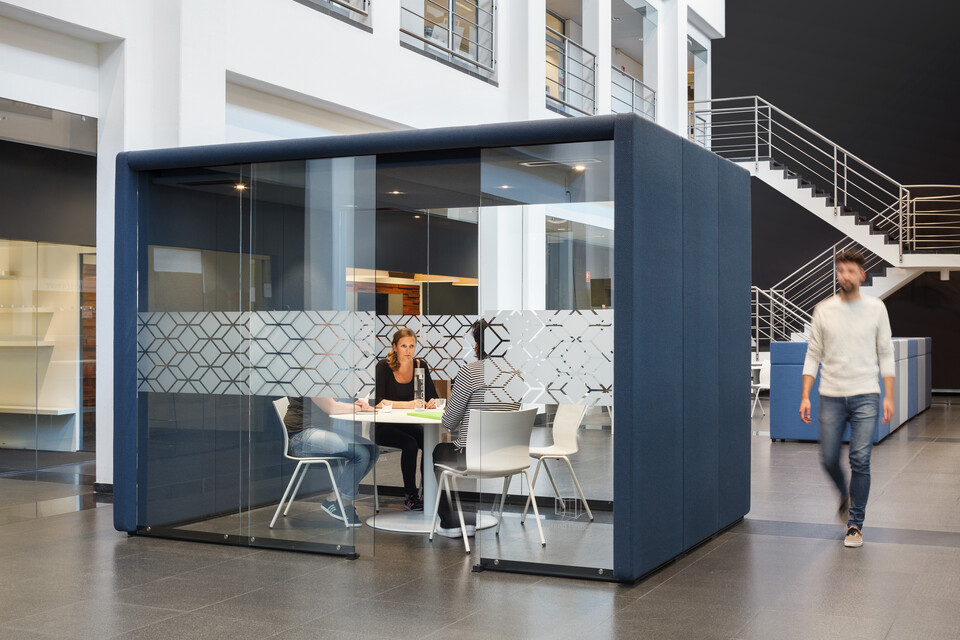 Want to know more?
Questions about our space-in-space solutions? We are happy to help you.
Get in touch