Study: hybrid working requires flexible design
Hybrid working, where employees work in varied spaces, is not just hype – it is the new reality. While meeting the needs of today's employees, it is also certainly proving popular with most employers. This is evidenced by our 2022 study into developments in the working environment, carried out with the help of our own customers, along with decision-makers and employees from various sectors. The results show that hybrid working has already become the new standard for most employers and employees, while also highlighting the importance of working in an attractive working environment. Here we discuss the study's key conclusions.
Offices still provide added value
Despite the upturn in working from home, offices continue to provide added value for both employers and employees. For employers, offices have the advantage of providing a feeling of connection to the organisation, while also facilitating social activities and creative collaboration. This is a view also shared by employees.
86% believe the office plays an important role in feeling connected to the organisation.
78% consider the office to play a vital role in providing a healthy and safe working environment.
80% believe that the office is crucial in developing professional skills.
'A good desk, a good office chair, a quiet space and a pleasant working environment are all reasons for me to come to the office.'
A growing need for flexible design
Employers and employees increasingly value the home office, meeting rooms and quiet spaces. Organisations therefore plan to support hybrid working even better in the coming years. To that end, they are making adjustments to their office spaces.
28% of employers plan to meet employees' needs to be able to make quiet (video) call.
40% of employers expect to use more foldable, mobile or adjustable furniture, such as sit/stand workstations, within their office environment.
The most expected adjustment by employers is to provide more flexible workplaces (41%).
Top 3 most popular spaces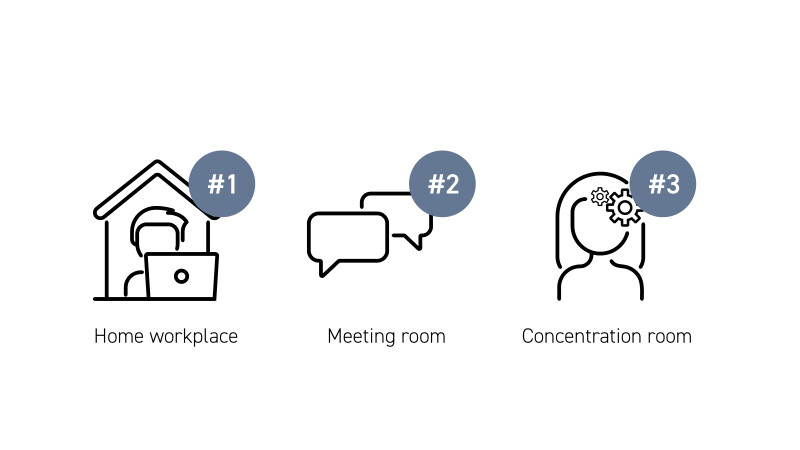 Hybrid working highly rated
Hybrid working – working partly at the office, partly at home or at another location – meets the needs and expectations of employees, with employers equally endorsing this flexible approach.
62% of employees are more attracted to working for employers who offer the opportunity to work in different locations.
70% of employers experience that hybrid working increases productivity.
6 out of 10 employees believe that hybrid working contributes to an improved work-life balance.
Adjustments for a more attractive working environment
47% of employers have already adapted their offices to support hybrid working, with another 41% expected to follow suit. Over the next 3 years, employers expect to see the following key changes:
33% of employers are looking to offer more social spaces/soft seating areas for informal team or 1-on-1 meetings.
29% of employers are looking to invest in more enclosed focus spaces.
28% of employers are looking to facilitate more (video) call booths for quiet discussions.
Key changes expected over the next 3 years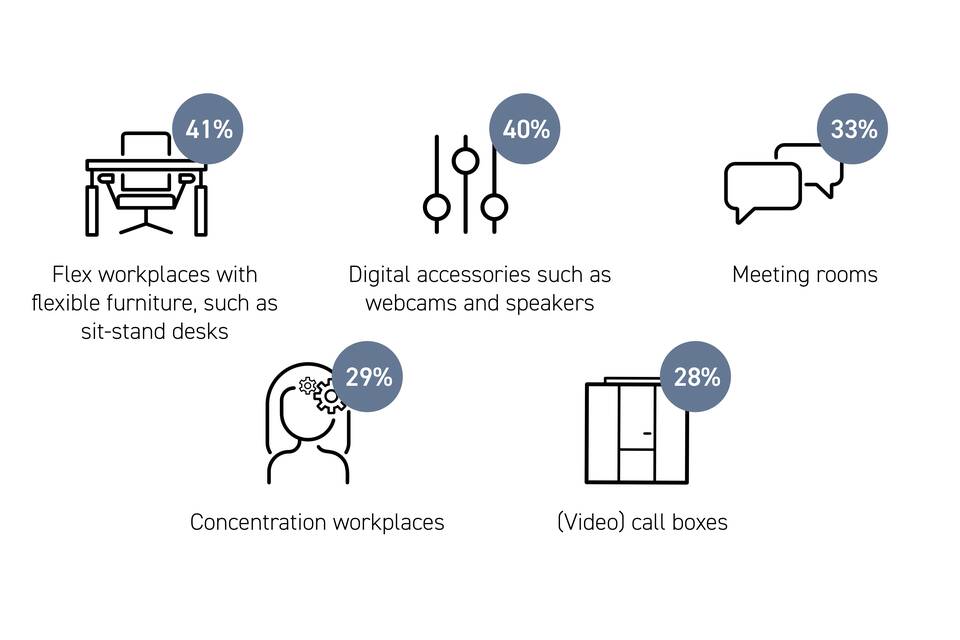 Office square footage
For many, working from home has become the new normal. Nevertheless, and contrary to current trends, some of the employers surveyed expect to see an increase in the size of their offices over the coming years, with many finding it a challenge to integrate the increased diversity of activities within the currently available square footage.
31% expect an increase in square footage.
38% expect the square footage to remain the same.
Only 24% expect a decrease.
'In recent years, converting existing spaces into spaces suitable for online meetings has become one of our greatest challenges.'
The importance of spaces for video calling is on the rise
More and more work and social activities are taking place digitally rather than on site. As a result, the importance placed on (video) calling and hybrid meeting spaces is also increasing.
20% of employees lack adequate office space to accommodate hybrid meetings and video calls.
33% of employers have already responded to their employees' desire for quiet (video) calling facilities.
28% of employers expect to provide more (video) calling and hybrid meeting spaces over the coming years.
'Going forward, the biggest challenge for our organisation will be how to keep colleagues connected between different locations.'
Home office as part of employment conditions
Working from home, like working in an office, has become a standard component of hybrid working. This is why the home working environment, just like the that of office, requires proper ergonomic furniture. Today, many employees consider this an important condition of employment.
70% of employees expect their home office to constitute a core component of their terms of employment, as compared to two-thirds of employers.