Study on Hybrid Working and the New Work Environment
Over the past two years, we've carried out research into developments in the work environment. Surveys of our own clients, but also more broadly of decision-makers and employees in different sectors. The results of these surveys confirm the development that we see towards a Hybrid Working Community; a work environment that offers more space(s) for individual employees to embark on their work journey. This report contains the results of the latest survey of December 2021.
In every sector, employers are actively engaging with the question of whether and how to develop hybrid working (further) in the future. On the basis of the employee survey results, we can also conclude that they are positive on the subject of hybrid working, and that they generally feel supported by their employers in this.
Work forms and hybrid working
In hybrid working the physical office still adds value for employers and employees. Employees say that the office is important when it comes to staying connected with the organisation (87%) and colleagues (94%).
Most employers are positive towards hybrid working. This meets the needs and expectations of employees. 75% of employees find organisations that can adapt to hybrid working attractive employers.
77% find flexibility in time and workplace increasingly important to their work/life balance.
Employees find the office important for: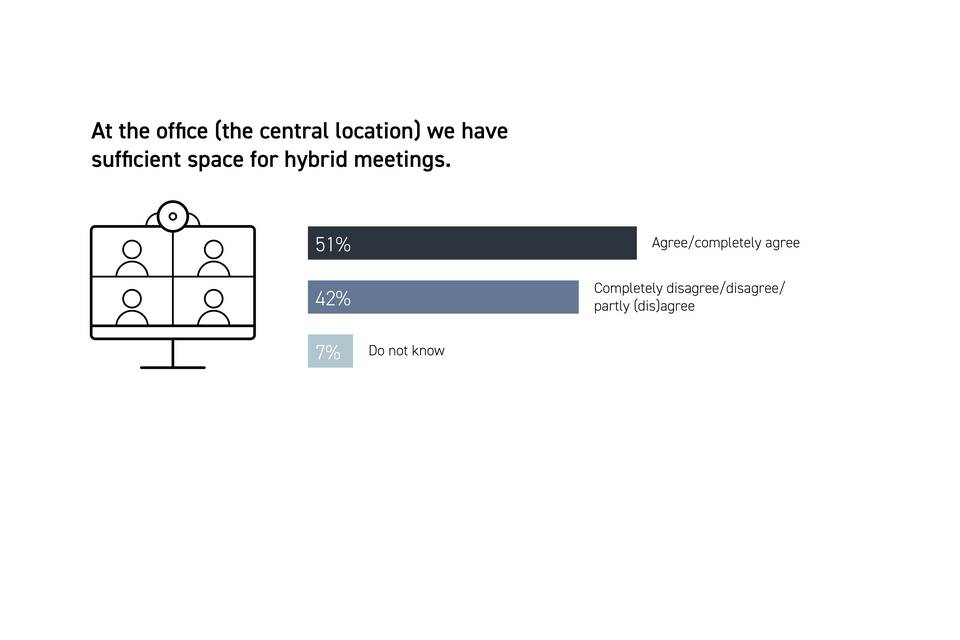 Shift in the importance of spaces
Only 51% of employees agree or strongly agree with the statement that there is enough space in the office for hybrid meetings or video calls.
Adapting the office environement
59% of employers have already adapted or expect to make adjustments to the office.
The public sector is notable in that 78% have already adapted the office or expect to do so.
Only 31% of private sector employers and 17% of pubic sector employers expect that they will not adapt the office to the new working reality.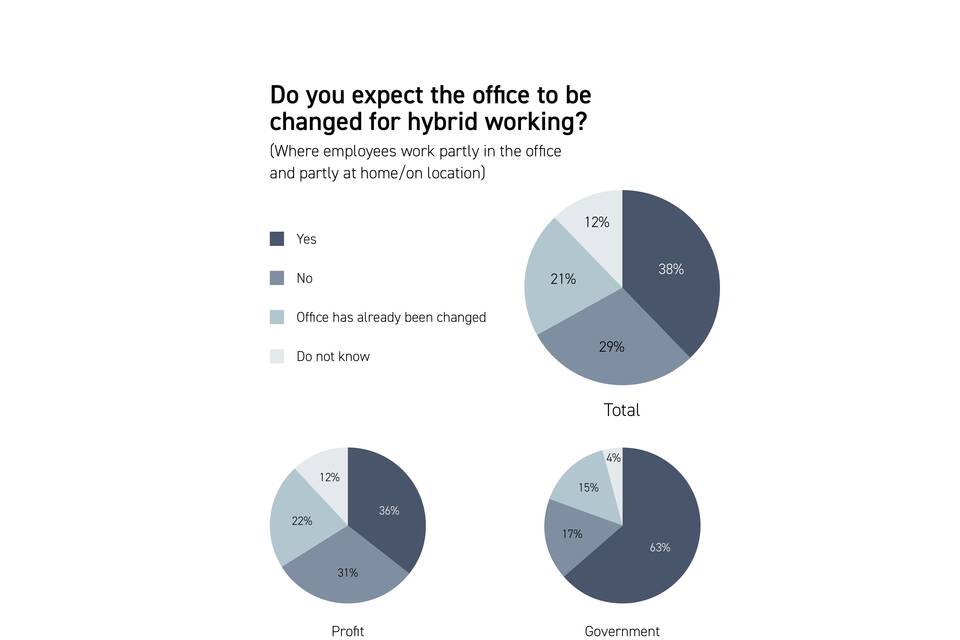 '37% of employers expect the required office space to increase. Only 17% expect a decrease in floor area.'
Adaptations made to enable hybrid working.
More phone booths to enable quiet (video) calling is a need among almost 32% of employees. Within the various sectors, 36% to 43% of employers say they have already met this requirement.
More flexible furniture is used in every sector, especially non-profit (71%), education (60%) and public sector (43%).
The high demand for more flexible workstations is associated with fewer permanent workstations.
There is also a need for the creation of more social spaces (including lounge seating for example)
Homeworking is an integral part of hybrid working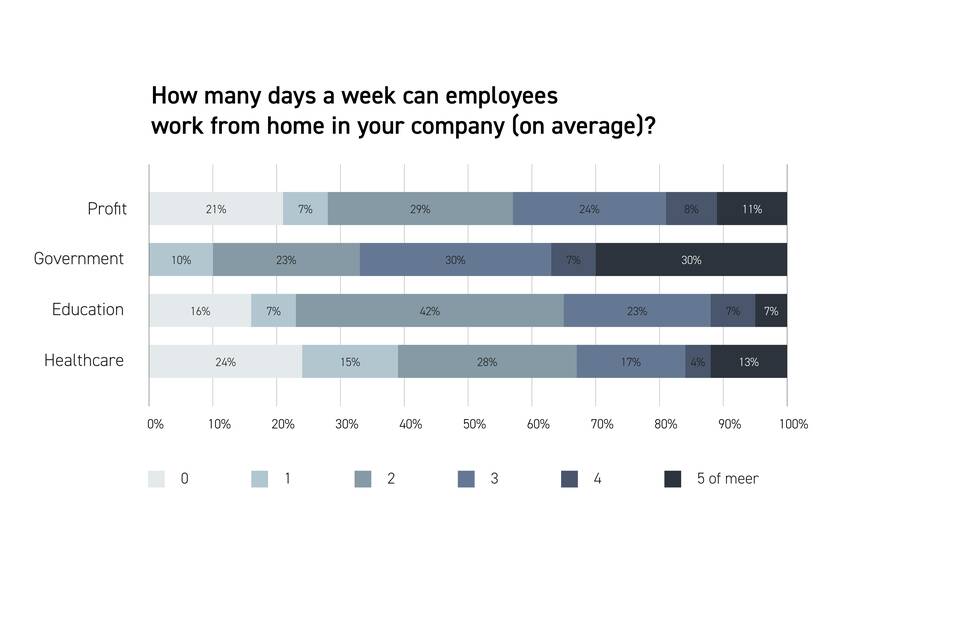 Working from home
The largest group of employers gives employees the option of working at home 2 or 3 days a week.
Within the private sector, 79% of employees are allowed to work from home at least one day a week.
Responsible home office
The majority of employees have an ergonomic home workplace facilitated by the employer.
54% are already doing so today and another 14% expect to do so.
27% order desks and/or office chairs. 22% give employees compensation and only a small part (5%) facilitates it temporarily.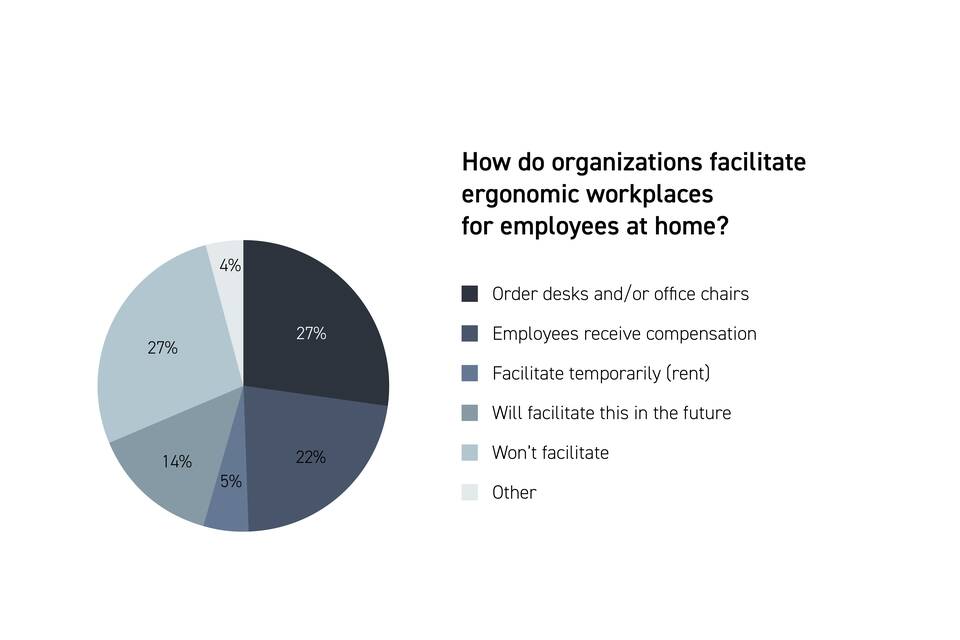 Support for activities
Employees indicate, the home workstation mostly supports concentrated working and online interactions. In contrast, the office workstation mostly supports formal and informal meetings.
Download
Download the full study here