Silence Collection
The Ahrend Silence Collection consists of the latest generation of space-in-space solutions that bring silence back into your work environment. Three solutions support activity-related working in their own way: the Silence Call, Silence Chat and Silence Meet. Whether you want to concentrate, collaborate or make video calls, vital working is assured with the Silence Collection. As is flexibility: the Silence boxes are easy to adapt or upgrade.
Designer Basten Leijh
Silence is not the absence of sound, but the presence of space
Work environments change quickly. With open-plan offices, flexible spaces and multimedia, we're more connected than ever. But at the same time, we're more distracted and stressed than ever. We're surrounded by sound. Everywhere and at all times.
Stress increases the risk of burn-out, depression, heart conditions and Alzheimer's. When silence is lost, it's harder to concentrate, to study, to remember and to create.
Silence has a positive influence on your well-being. Surrounded by silence, we work more effectively and feel more vital. With less stress, fewer errors and less absence due to illness.
'The Silence Collection brings silence back to our workplace. For increased creativity and greater focus. For rest.'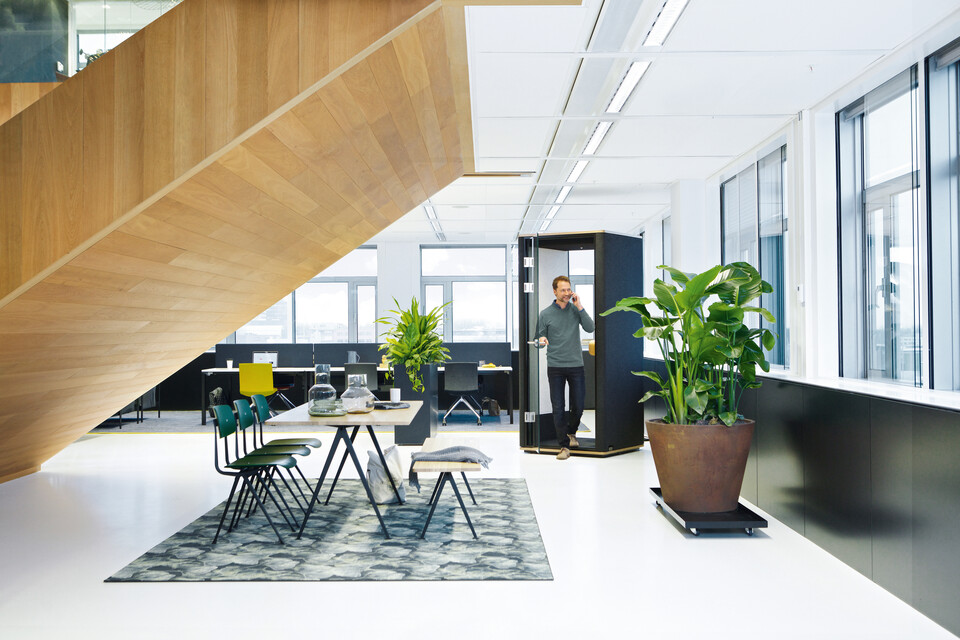 Peace and comfort
Silence comes with adequate comfort. That means adequate space to work, a place to sit and good ventilation. The optimum balance between speech clarity and ventilation offers the unique comfort that makes this collection so unique. Plug your laptop in and get to work; the collection is 100% Plug & Play. In a nutshell, a functional solution for undisturbed and focused working in a modern, open office space.
Silence, in every detail
Opt for A-class silence. The Silence Collection is one of the best insulating collections on the market. The space inside the Silence boxes is clad in 12 mm-thick wool felt to ensure the space does not echo. The felt has an absorption time of 0.2 seconds. The exterior of the Silence Collection is also upholstered. The boxes therefore have acoustic benefits both inside and outside. Choose your own finish: the colour of the upholstery can be matched to the rest of the interior.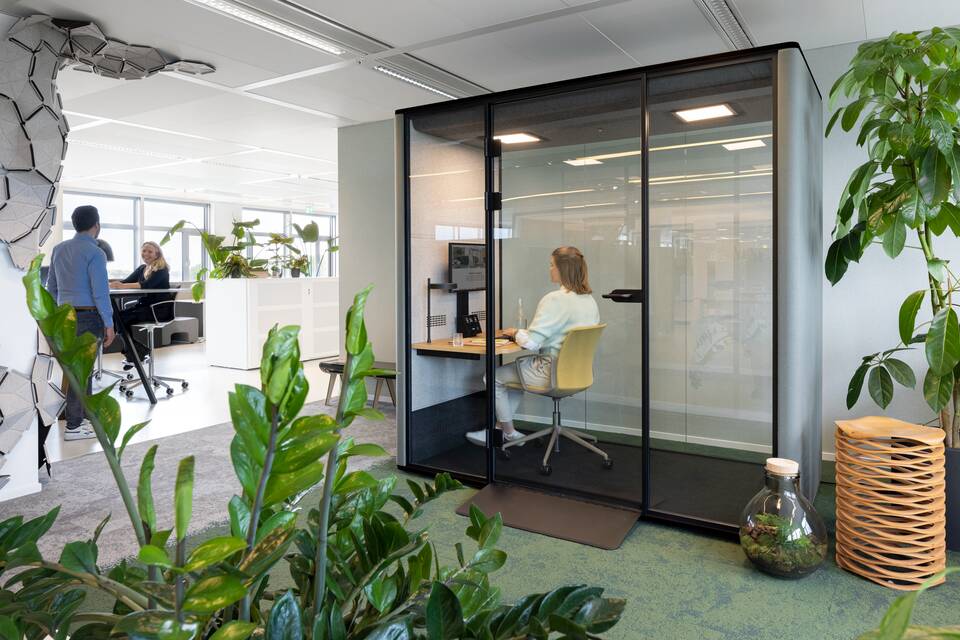 A sustainable solution
The Ahrend Silence Collection has been designed to change with the times. You may want a single workspace for video calls today, while next year you might have other needs within the work environment. This collection has been designed in such a way that every component can be upgraded or replaced. Thanks to smart, detachable connectors, the modules and materials are easily separated and reused. Furthermore, the materials are of the highest quality. That's not only apparent from their ease of use; the materials are exceptionally hardwearing and therefore last for years.
Your own configuration
The Silence Collection is available in three variants: Call, Chat and Meet. Find the one that is a perfect match or your work situation. Choose from over 120 stunning colours in the Kvadrat Divina, Divina MD and Divina Melange fabrics, or go for the Gabriel Soul Melange. Whichever configuration you go for -– privacy, focus, creativity and flexibility are guaranteed.
Call, Chat or Meet?
Want to know more about the Silence Collection?
Download the brochure here: