Educational chairs
The Grow Collection offers different types a wide choice of table frames and tops, and chair tubs and bases. Mix & match your ideal sets yourself! Each product has its own advantages; we will be happy to advise you on the best application.
Designed for intensive use
Our designers have used smart solutions and high-quality materials in the design to ensure that the lesson set lasts a long time and is easy to maintain and simple to use.
For example, all of the chairs have a hand grip which makes them easier to move around. Special leg caps protect the floor from scratches.
Choice of plastic or wooden seat or separate back and seat
Choice of Classic (4-leg), Comfort (C-leg) or Work (star base with gas spring) base
Choice of various paint and seat colours
Available in 2 seat heights: 46 - 52 cm
Choice of floor caps or castors for hard or soft floors
Dynamic seating
The Grow collection contains both lesson sets for students and a height-adjustable chair for teachers; the Grow Work High. In combination with the Grow Move table, you can easily maintain an overview of the space and alternate between sitting and standing work. So everyone always has a bespoke workstation.
Variations

Grow Classic
Grow Comfort
Grow Work
Grow Vintage
Grow Work High
Grow Stool
Sustainability
Where working method and production technology are concerned, the Ahrend Grow Collection complies with the strictest standards in the market. We work in accordance with ISO standards 9001 (quality management system) and 14001 (environmental management system). Ahrend also holds a PSO-30+ certificate (More Social Entrepreneurship Performance Ladder). This means that we accept our social responsibility and are committed to more sustainable workstations for people with high labour market vulnerability.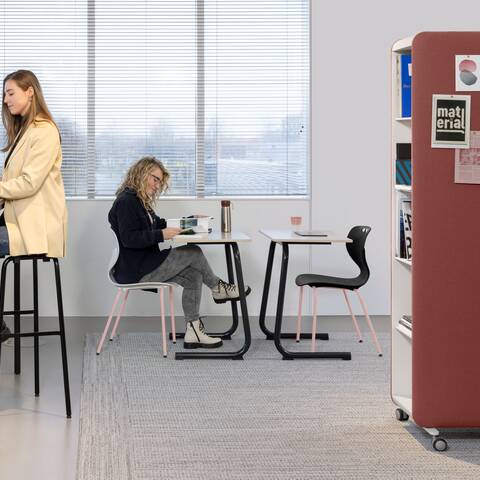 We would love to hear from you!
Do you have a question or would you like more information?
Get in touch