Ahrend Modea Collection
With Ahrend Modea you get a modular and circular workplace concept that allows you to adapt your interior design to the identity and needs of your organisation.The organic shapes of the Ahrend Modea Collection give the work environment a pleasant and welcome appearance, where everyone feels at home.
Flexible and modular
Ahrend Modea consists of solo, duo and trio workstations and conference tables for office and home work environments. The collection supports various ways of working; from focused working to collaboration. By cleverly combining timeless standard components you can create innumerable configurations. Think duo workstations that can easily be converted into solo workstations - and vice versa. In terms of ergonomics too, Ahrend Modea is a good fit: the standard integrated sit-stand solutions encourage healthy, creative and productive working.
Modular desk and (conference) table range
Organic, homely shapes
Worktop is easy to assemble and disassemble with Quick fix mounting
3-step electric height adjustment, from 65 to 130 cm (sit-stand)
Standards: Ansi Bifma M7.1 e3, EN 527-1, EN 527-2, EN 60335-1, NPR 1813, NPR 8313
Choice of solo, duo, trio, doc workstations and conference tables
Linked configurations possible
Husk feet for duo and trio workstations
Tabletops in organic shapes and with rounded edges
Choice of several height adjustment controls
Extensive options for electrification and cabling
Wireless mobile phone charging point (PuK)
Various tabletop decors
Frame in a range of lacquering colours
Can be combined with acoustic panels in several versions
Can be completed with Ahrend Link solo and duo monitor arms in black or white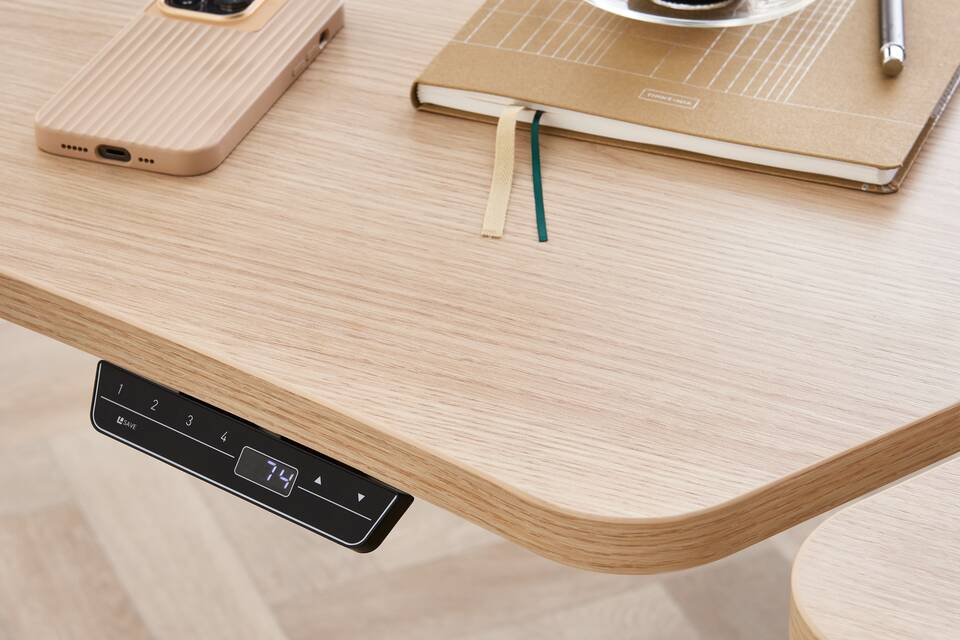 Organic design
In recent years, many employees have become accustomed to the atmosphere and comfort of home. They like to see that homely atmosphere in the office. The tabletops with organic shapes and rounded edges give Ahrend Modea a pleasing appearance.
Numerous working configurations
The desks and tables in the Ahrend Modea Collection come in various versions that can be linked or combined with each other to form a variety of working configurations. So you can choose solo, duo or trio configurations and combinations of these. There is also a doc workstation specifically for the healthcare environment.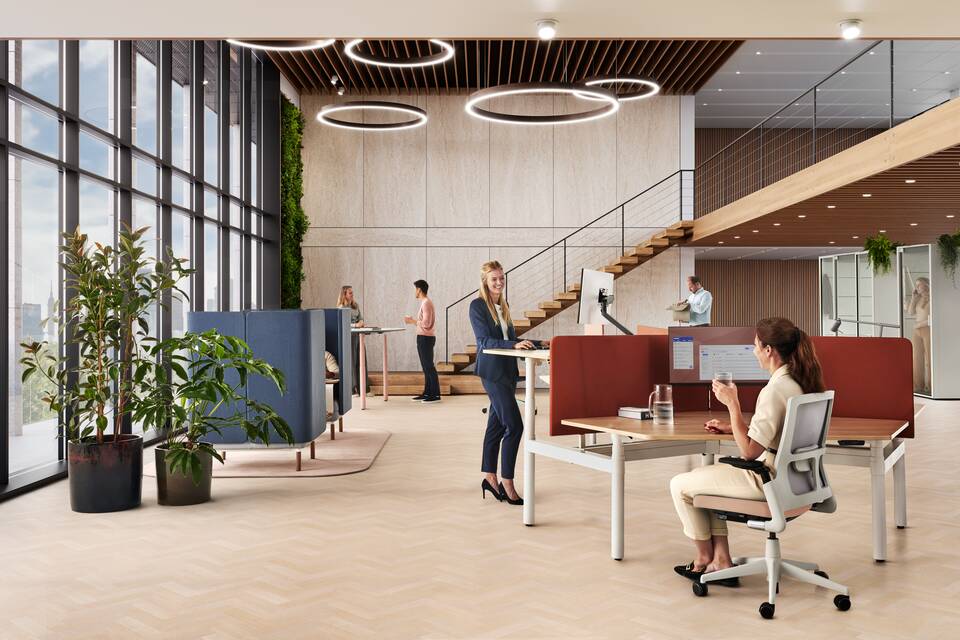 'Organic shapes are free forms with curved lines. These shapes are associated with fun, movement and creativity. Organic shapes look flexible, creating a comfortable feel.'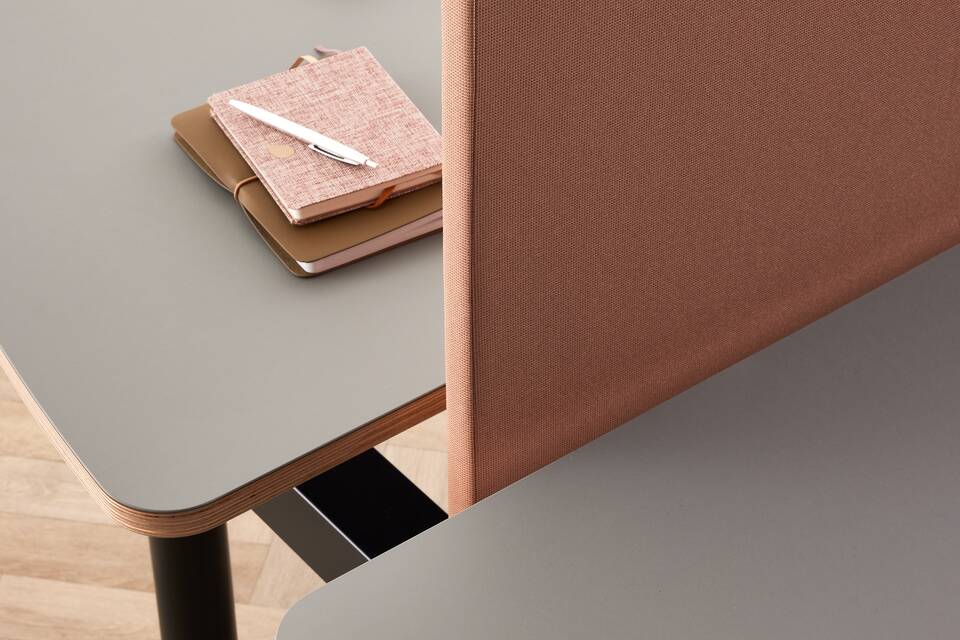 Acoustic panels
To create distance and privacy and to reduce noise, you can opt for an acoustic panel between duo and trio workstations or at a solo workstation. The panels are available in two heights (from the floor 108 or 118 cm), two thicknesses (25 or 50 mm) and widths from 120 to 200 cm, to match the widths of the tabletops.
Conference tables
Dynamic meetings and active collaboration call for furniture that goes with the flow. The Ahrend Modea conference tables offer this flexibility. The tables can be used in a range of ways within the same space, supporting activity-based working and encouraging varied working postures. This boosts productivity and efficiency. Within the collection you can choose from conference tables in various shapes and sizes. There is a suitable model for every space and activity.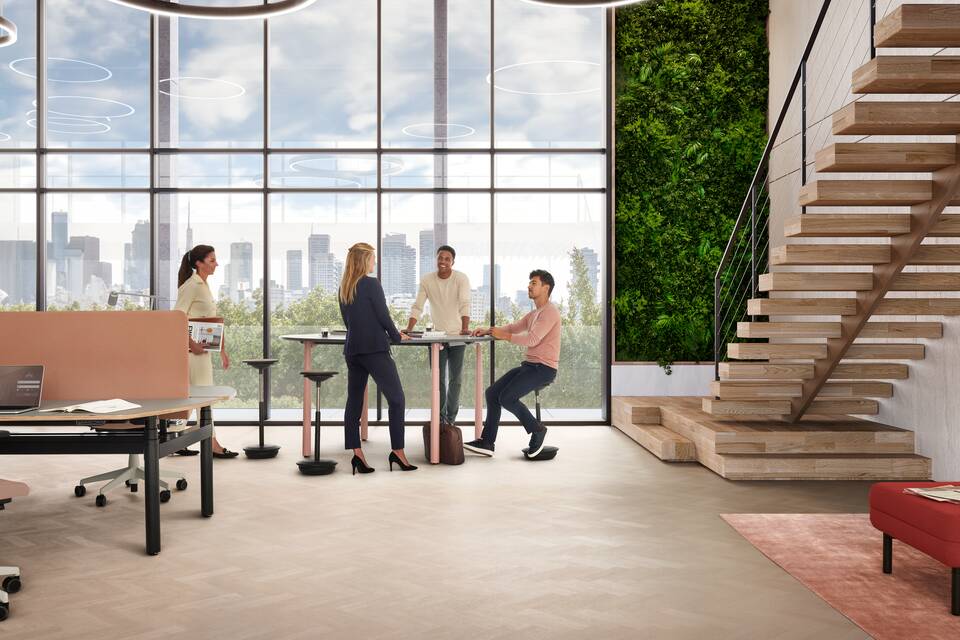 Sustainability
We developed the Ahrend Modea Collection following the circular design strategy. With the aim of: promoting long-term (re)use of components and materials and preventing raw materials from becoming waste. We use as little material as possible and as many sustainable and recyclable materials as possible. The design of our furniture is modular, so it is easy to repair and is long lasting. At the end of its lifespan, parts and materials often get a second life in new furniture. This way the value is preserved.
Lightweight tabletop
Those looking to reduce their CO2 footprint choose a circular tabletop from Greengridz®. This tabletop consists of a grid of HDF panels made of sustainable, certified wood. The panels are CARB2 certified, contain no formaldehyde and are glued with environmentally friendly PVAc D3 adhesive. The tabletop weighs on average up to 60% less than an MFC table top.* As a result, transport is less environmentally-unfriendly and installing the tabletop is easy.
*with dimensions of 160 x 80 x 24 cm