Diversity and flexibility
As much as 80% of employees say they would like to work for a company that supports diversity, equality and inclusion. A diverse and inclusive working environment promotes engagement, innovation, better decision-making and higher profits. This in turn becomes a vitalising working environment where everyone feels welcome and where people do their work in the place and manner that suits them. To create a vitalising working environment that fosters diversity and flexibility, a number of building blocks are important.
Hybrid working
Activity-based working is central to hybrid working: People choose the workplace that best suits their activities. So they like to alternate between working at the office, at home and at other locations. Within the working environment, a diversity of spaces supports different activities. These include rooms for hybrid meetings, lounges for meetings, brainstorming rooms with high tables for agile collaboration and acoustic boxes for video calls that simultaneously serve as a barrier between zones.
'The more diverse an organisation, the better the atmosphere and performance.'
Type of people supported
The more diverse an organisation, the better the atmosphere and performance. Therefore, a vitalising working environment accommodates a wide diversity of people - and thus individual needs - in the workplace. So for those who perform best through regular meetings, there are spaces for meetings and (digital) consultation. Those more productive and comfortable working in a quiet workplace can opt for acoustic boxes.
Flexible conversion
In the vitalising working environment, the need for flexibility means movable or adaptable furniture. With agile working, it is practical if spaces and furniture also move flexibly with it. For example, if a project space can easily be converted into a presentation space. Or if the mobile boxes can be used on another floor during a redesign. Leasing furniture is another way to stay flexible. This allows the layout to move easily with the growth, shrinkage or changing needs of organisations.
Smart office
A vitalising working environment is not only comfortable but also smart. For example, a digital dashboard provides insight into occupancy: 'Is there another box available for video calls?' Employees no longer have to go all over the office looking for a suitable meeting room or workplace. All areas are also designed for hybrid working. They feature smart technology thus enabling employees to remain remotely connected with one another. Think interactive screens, webcams and speakers.
Other points of interest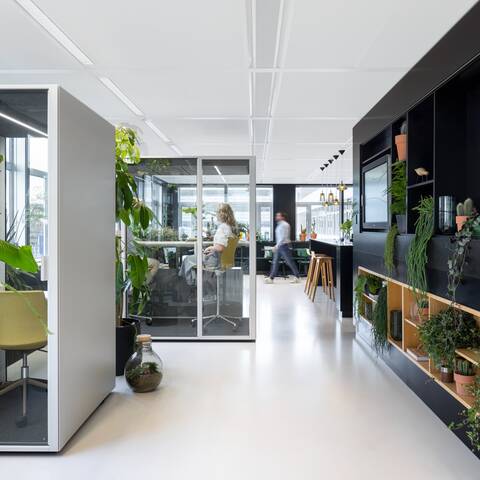 We are happy to help you plan!
Would you like to know more? Contact us for advice without obligation.
More information