SQALA
The ultimate mix of versatility, comfort and elegance. A choice between two backrests - SQALA Soft and SQALA Style - lends infinite possibility and a unique feel to every workplace. Use it to create an identity that fits right in with your organisation and working environment, with healthy and dynamic seating.
Designer Kees de Boer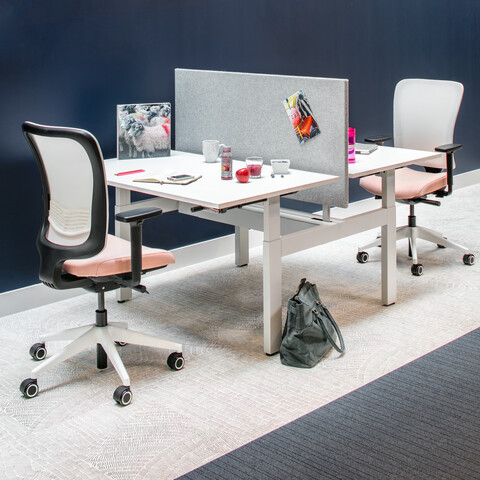 An ergonomic office chair is vital to every workstation.
The Ahrend SQALA exceeds all ergonomic standards, the highest being NPR1813. The preformed seat gives active and comfortable support. The synchro- and seat-tilt mechanisms also promote dynamic sitting posture. The office chair can be adjusted easily and intuitively, making it suitable for both flexible and permanent working spaces.
Make it more personal
A choice between two backrests allows you to bring a personalised look and feel to every space. The SQALA Soft has a fully upholstered backrest which can be supplied with colour accents to create a warm and playful mood. The SQALA Style has a 3D netweave back, which has a brighter, fun look and feel. Use it to personalise any work environment.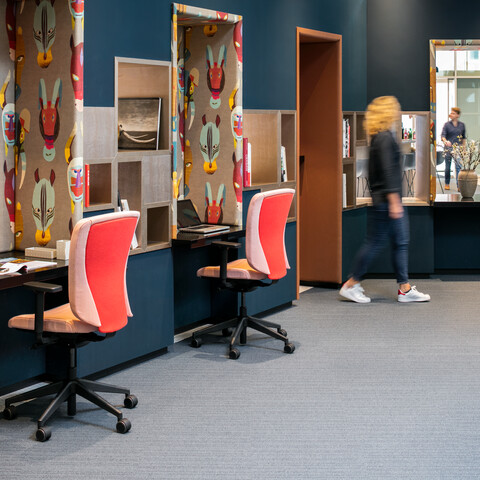 'SQALA has a unique character and offers endless possibilities - create the identity that suits you best.'
Specifications
The basics

Style version with 3D netweave back and lumbar support
Soft version with upholstered back and integrated lumbar support
Plastic five-star base
Synchronous mechanism (self-regulating)
Armrests are width, length and height adjustable
Comfortable shaped seat
The options

Gas lift for 'extra high' setting
Seat tilt
Polished or lacquered five-star base
Fully upholstered backrest with back panel in different fabric or fabric colour
Soft castors, castors with white ring
Dimensions

Seat depth adjustment 38 - 48 cm
Seat height adjustment 41 - 55 cm
Seat width 49 cm
Distance between armrests 36 - 52 cm
Height adjustable armrests 20 - 31 cm
Ergonomic instructions
When you are seated, you have to sit well
When you sit, make sure you support your body well with a perfectly adjusted office chair.
Set your seat height so that your legs are at a 90 to 100 degree angle. Your thighs are horizontal. Make sure there is a little space between your knee cavity and the front of the seat. For optimal support, set the lumbar support so that you position it in the curve or your spine. Your armrests put you at a height so that your shoulders can relax and your arms are at a 90-degree angle. Lower your worktop slightly lower than the armrests. Finally, the top edge of your computer screen must be at eye level.