A new, striking building for Danone
Danone had eighteen months to develop a completely new head office in Hoofddorp. A major challenge from the moment the first pole was knocked into the ground until the key transfer.
Building site
For Ahrend, one of the greatest challenges for this project was the particularly tight time-frame. The lease with Danone's previous property had expired, giving the move a tight deadline. Effectiveness, flexibility and result driven were of great importance. Not only in terms of planning, but certainly also in terms of furniture. Through the very short construction process Ahrend faced a huge task to Furnish the building while the construction workers and painters were still working. Elevators were not an option, instead the goods were placed inside using a crane. The short lead-times and fast delivery that Ahrend offered were indispensable. They were largely made possible as a result of Ahrend having its own factory in the Netherlands.
Landing zones
A new building also meant a new way of working. Danone introduced Activity Based Working for their 700 employees. No more fixed desks, but, instead employees were encouraged to choose a place most appropriate for the task. With this as a starting point, after discussions with Ahrend, Danone opted for a sustainable circular décor with, among other things, height-adjustable duo desks, sit-stand combinations and round tables in their 'landing zones'. By using sustainable furniture in different materials and colours, spaces were created that also fully support Activity Based Working. The result was flexible, informal and healthy workplaces, based on the WELL principles. These enabled a healthy and sustainable working environment and Ahrend had the in-house expertise to implement them and thus meet the criteria.
'Peace and confidence in a hectic period'
Facility Coordinator Services, Facilities & DPA
Danone about Ahrend
"Before the move, we made tenders for various services, including furniture. We had an existing supplier, but we wanted to see what other parties had to offer. Soon we decided on Ahrend; we were looking for a real collaboration. A company in which service and personal approach are of paramount importance. Those were points that were immediately apparent and which were more than proven during the process. We asked for a lot of flexibility. Time and time again; shifting deadlines was an example of this. We were in a building site, but Ahrend was always ready with solutions and could adapt very quickly. For example, by storing all goods externally. It's nice to work with a party that are always a few steps ahead and you know, 'this is going to be okay. It's being arranged.' Danone had two main goals: we wanted Activity Based Working and as a company to really create our 'own place' so that we could bring the 'Danone community', closer together. Ahrend has helped us achieve this. (Keyla Rikken, Facility Coordinator Services, Facilities & DPA)
- Keyla Rikken, Facility Coordinator Services, Facilities & DPA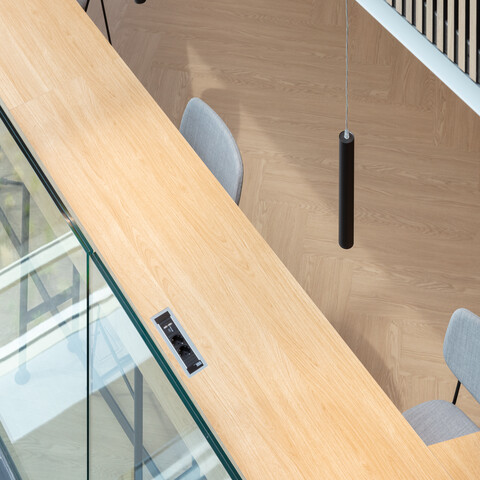 We would love to hear from you!
Do you have a question or would you like more information?
Get in contact