Working from home
Working from home is here to stay. Don't have an ergonomic home office yet? With the ergonomic chairs and desks from Ahrend, you can create a workplace at home that is not only healthy, but also very comfortable. This way you prevent physical complaints in the long term. Below you will find tips and tricks and our business services in the field of working from home.
Create an inspiring home workplace
Tip 1: Organize your stuff. After all, a clean desk means a clear head.

Tip 2: Decorate with plants. They provide extra oxygen and relaxation.

Tip 3: Hang a pin board. Surround yourself with inspiring photos, quotes and remind yourself of your goals for this year.

Tip 4: Ensure good lighting. A desk lamp with warm light compensates for the blue light of your screen.
More tips about working from home in our Stories
Sustainable
Designed from Cradle-to-Cradle guidelines
Ergonomics
Exceeds ergonomic guidelines
Design
Designed for 125 years from the 'Less is more' design philosophy
When you're sitting, you have to sit well
With this checklist you can set up your office chair ergonomically. This way you are certainly well behind your desk. Nevertheless, it remains important to change your posture regularly and walk for 2 minutes every half hour.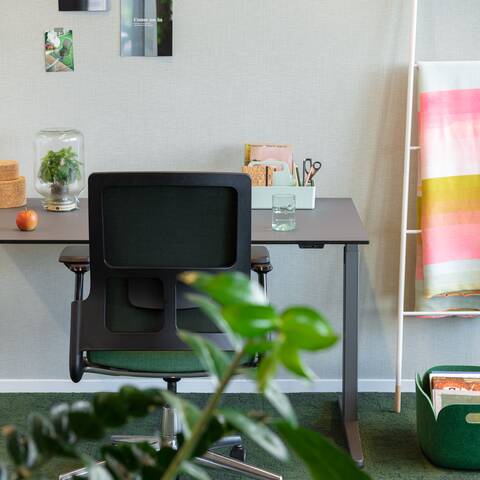 Want to know more about our work-from-home solutions?
Then we are happy to help you.
Contact us