Charge Collection
Do you need to get away from your workstation for a short conversation, a phone call or to check your email? The Charge Collection, comprising a range of seating solutions, supports this perfectly. Thanks to the high degree of seating comfort and the extra facilities this collection has to offer, you can truly recharge your batteries for a moment.
Designer Basten Leijh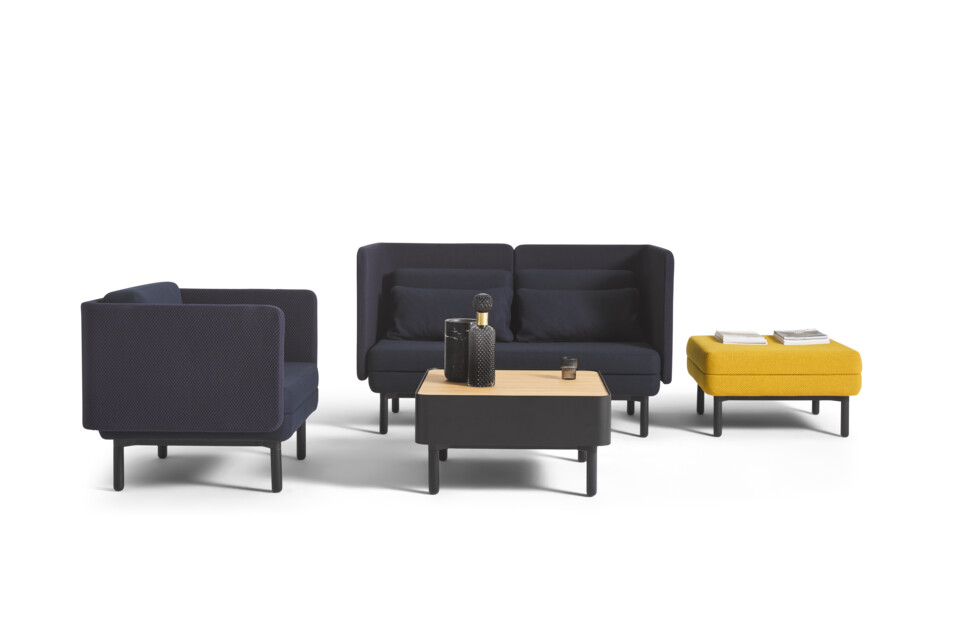 Healthy working
Sitting at your desk in the office all day long is now a thing of the past. What's more, it's not healthy. If you change positions and move around in between, you'll feel a lot more energetic. Do certain activities demand less concentration than others? Then it's nice to be able to withdraw to a place that allows a relaxed sitting posture. The Charge Collection offers a range of options for creating such a place.
Endless configurations
The collection is based on a modular system. With a minimal number of components, it's possible to assemble a limitless number of seating solutions. You can also set up separate zones for different activities in an open-plan work environment. Raised partition panels give a varied look within the work environment and provide extra privacy and pleasant acoustics.
Tubular steel frame (from the Ahrend Balance Collection) with aluminium corner profiles and oak legs
Seat and back cushions in two types of foam
Identical upholstery for seat and back, the same applies to the rear partition and loose cushion
Legs: natural or black stained oak
Partition panel in three heights (76, 90 or 138 cm)
Swivel tabletop in beech plywood, with a surface finish in oak HPL
Plug and play with a choice of power point with USB charger or wireless charging point, both integrated into the table frame
Pastille W182 P2 table lamp in black or white, integrated into the table frame
For armchair: flexible laptop holder in black or white, integrated in the table frame
'With a minimal number of components, it's possible to assemble a limitless number of seating solutions.'
High quality and timeless
The cleverly designed Charge Collection exudes quality in a number of ways. All the materials are of high quality: that's apparent from the look of the collection. Seating comfort is very high, thanks to the use of high-quality foam and a sprung seat. The formal language is timeless and subtle. Create the look you desire: the collection offers a wide range of colour schemes.
Evolves with you
The Charge Collection is designed to change with the times. That's a reassuring thought in a continuously changing office environment. All parts are easy to upgrade or change (on location). Furthermore, with this collection you're opting for a sustainable solution: modules and materials are easily separated and reused. The hard-wearing materials will last for years.