Avans University College in Roosendaal
To house a new course for Avans University College in Roosendaal, an old tax office was totally transformed into a modern school complex. The briefing was to aim for maximum sustainability.
Tax office transformed into a bright, modern school
Avans University College is an educational establishment with about 30,000 students in four cities. Avans was commissioned by the government to develop a new type of learning: a course somewhere between intermediate and higher vocational level. That gave rise to the Associate Degrees Academy (AD) in Den Bosch, which was an instant success. So, in partnership with University College Zeeland, Avans opened another establishment: in an old tax office it acquired under lease in Roosendaal.
The place was given a completely new interior courtesy of Rienks Architects of Breda, and Ahrend teamed up with Avans' project leader, Oscar van den Eijnden, to come up with a layout plan. The theme was inspired by the artwork on the lobby floor; the remainder of the picture was determined by its organic shapes and colours. The whole of the ground and first floors were altered. The old office units, where whole days had been spent in meetings, made way for a school complex bathed in natural light.
What emerged was a modern premises with broad staircases, classrooms, quiet workplaces, a boardroom, a lecture hall and even a communal space for about forty students.
'We had about 4000 m2 to furnish'
Re-upholstery and Reuse
The biggest challenge was that nobody yet worked there. The lecturers, who might tell you what sort of layout they wanted, had yet to be recruited. But as Avans had previously used Ahrend on a building set up for the same course in Den Bosch, we were able to involve those lecturers in the new school layout. As it turned out, there were three distinct 'elements'. There would have to be spaces for technical and practical work, as well as an educational element and a generic element.
'Sustainability is a hot topic at Avans'
This was the perspective from which the building was furnished: what sort of education is it, and what would an appropriate layout be? Ahrend supplied the furniture. Things like round tables with power outlets, where students would be able to work in company, or brainstorm; tables and chairs for quiet study areas; classrooms; individual workplaces and a common room, for which Ahrend also supplied atmospheric hanging lights and flower boxes. The leatherette train-compartment sofas, with their custom prints, are a real eye catcher. Given the project's firm grounding in sustainability, not all the furniture supplied by Ahrend was new. Tables and chairs were retrieved from Avans' storage facility and reupholstered by Ahrend for reuse.
Avans talking about Ahrend
"We've been working with Ahrend for years now and I'm always very happy with the results. Sustainability is a hot topic for Avans. It is our mission to be a hundred percent circular by 2030. An ambitious but beautiful plan in which we will continually stop and reflect on how the most sustainable solutions might be created. Sustainability is also a high priority for Ahrend and one in which they are well advanced, having already made a truly valuable contribution in the area of circularity. They have a tremendous understanding of their trade. They relieve you of the thorny issues and engage you with the project; how do we create a fantastic interior, given nothing to start with? What makes Ahrend so strong is the total package. They really do have an answer for everything: a top team to have on-side."
- Oscar van den Eijnden, property & accommodation project leader for Avans University College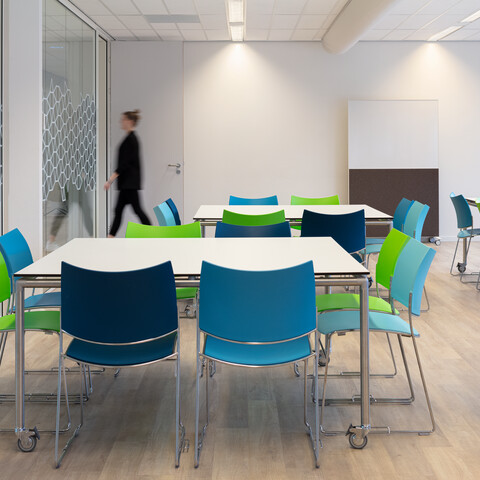 We would love to hear from you!
Do you have a question or would you like more information?
Get in touch