Ahrend Ease
The Ahrend Ease office chair is attractive and functional in design, with an optimal ergonomic back rest and a high level of seating comfort. This office chair is especially suitable for individual adjustment. That is because of the choice of three motion mechanisms and two different armrests, and the abundant adjustment options for lumbar support and seat.
Designer Justus Kolberg
Support and comfort
The flexible, pivoting back rest ensures a good fit with your back and the correct distribution of pressure. The back rest is covered with netweave or fully upholstered.
The Ahrend Ease has a height- and depth-adjustable lumbar support to provide optimum support for the back. The depth can be adjusted to six settings using the twist knobs.
The upholstered seat has a 10 cm adjustable depth range. The seat slides under the lumbar support to prevent an opening between the seat and back.
Sustainability
The Ahrend Ease Collection is constructed from modular components that are easily replaced. For example, renewing armrests and upholstery is straightforward, giving the chair a longer life. The back of the office chair is made without screws, staples or glue so that it can be dismantled and reused easily and without the need for tools. The back adapter is made from aluminium, which is easy to recycle.
Specifications
The basics

Synchronous or autofit motion mechanism
With or without arm rests
Choice of two arm rests: 3D conforms to EN 1335 type A 4D conforms to NPR 1813 and the EN 1335 type Ax
Pivoting back rest with black netweave covering
Height and depth-adjustable lumbar support
Upholstered seat, 10 cm depth-adjustable
Black plastic star base
The dimensions can be found in the brochure
The options

Star base in coated or polished aluminium
Star base with hard or soft castors
Pivoting back rest fully upholstered in black fabric
Extra-high version
Wide choice of upholstery for the seat from the standard Ahrend range
Comfortable seating for everyone
Adjustment is very user-friendly. The buttons situated under the seat make it easy and logical to adjust the chair to suit your body from a seating position. The armrests can also be adjusted quickly and intuitively.
This video is an operating instruction for the Ease office chair with synchronous movement mechanism and 3D armrest. You can download the instruction for the Ease office chair with synchronous movement mechanism and 4D armrest at Specifications.
Materialisation
The appearance of a piece of furniture is not only determined by shape. The material used plays an important role. So play with color and texture until the ultimate combination arises. Here you will find an overview of our standard fabrics, lacquer and table top colours.
Read more about materials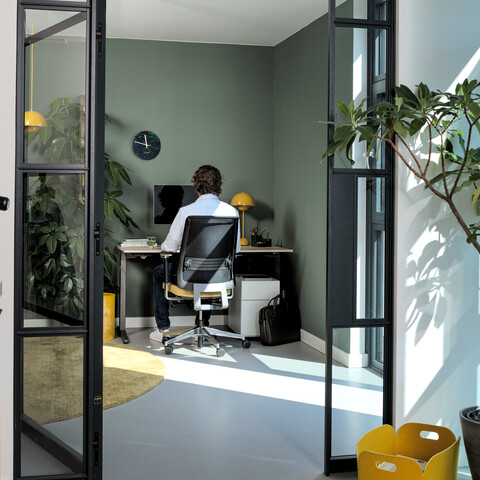 We would love to hear from you!
Do you have a question or would you like more information?
Get in touch