Opening of the Circulaire Hub
December 2, 2021
Ahrend and Gispen take a new step towards a circular business model with the opening of "the Circulaire Hub"
Ahrend, Gispen and Presikhaaf Schoolmeubelen - designers, manufacturers and suppliers of office, school and care furniture - join together today to open what they have named "the Circulaire Hub (circular hub). From this Hub, which is situated in Veghel (North-Brabant) and will be open to other companies in the long term, a dedicated team of circular consultants, furniture brokers and revitalisation experts will deal with clients' questions on circularity on a daily basis. All kinds of expertise are gathered here: not only in the field of reuse, but also on the subject of operational lease models.
As part of the transition agenda, the Circulaire Hub is taking the lead alongside the Dutch government in developing a fully circular purchasing policy by 2050. With regard to that development, the facility in Veghel is an immediate solution for companies and government agencies who have announced that they will start to exclusively use circular services with regard to office furniture by 2030.
The opening of the Circulaire Hub is a new step for both organisations in the ongoing transition towards a fully closed business model, in which all residual and waste flows are reused and revitalised. Soon around 40,000 to 50,000 items of furniture will be given a new lease of life each year. Extending the lifespan of the products (refurbishing used items rather than manufacturing new products) in the hub will also reduce CO2 by 40-90%.
Long track record
The companies behind the Hub, Ahrend and Gispen, already have a long track record when it comes to the circular design and manufacture of furniture. In the 1990s, Ahrend was involved in the development of Ecodesign, the European guideline for environmentally-friendly product design, and the company was among the first to develop the manufacture of products according to the Cradle-to-Cradle philosophy.
According to the Circulaire Hub Manager Bob Stamhuis, Ahrend and Gispen are reaping the rewards of decades of circular design and efforts to make products more sustainable. "Many products that we developed thirty years ago according to circular principles are now coming back to us to be reused or revitalised. The trick is to keep the value of the product as high as possible and delay the recycling of products for as long as possible. The Circulaire Hub gives us the opportunity to do this in a central location within Europe."
Revived products
Large quantities of used furniture can be revitalised at the Circulaire Hub. Stamhuis: "This might involve reupholstering office, conference or waiting room chairs, electrical repairs, or replacing damaged tabletops. We refurbish Ahrend and Gispen products, as well as those from other suppliers. Under the Revived label, we offer a very wide range of refurbished furniture online via the Circulaire Hub, supplied directly from stock."
From ownership to use
According to Eugene Sterken, CEO of parent company Royal Ahrend, the significance of circular services will increase greatly in the years ahead. "At the moment, about 80-90% of office furniture in Europe ends up being thrown away. There really is no need for that, and preventing it is the responsibility of every manufacturer. We can really make an impact with the Circulaire Hub and with central management. That's why we are allowing other parties to join. For example, on the technology front, the Circulaire Hub has invested in the development of a Furniture Management System that provides accurate insight into the condition, location and value of our clients' furniture. We use this data to carry out preventive maintenance to ensure that our clients' furniture is always in good condition. After all, circularity also means retaining value through good maintenance. We are also seeing a shift from 'ownership' to 'use'. We offer Furniture as a Service, which means our clients pay only for what they use. If they no longer need something, they return it and the Circulaire Hub makes it available to another client. In this way, we want to really continue to develop our circular services through the Hub, and help our clients with the circular challenges they are faced with," says Sterken.
Logistical impact
As the Circulaire Hub includes 12,000 m2 of storage space, it can also be used for logistical services such as the (temporary) storage or relocation of furniture, buy-back programmes and complete building clearances. The choice of Veghel as a base should be seen as a tactical decision, says Stamhuis. "Here, we are close to our clients in the Netherlands, Germany, France and Belgium. We can also acquire large quantities of used furniture via our European network. In a single transport movement, we can deliver and install new, circular and/or refurbished furniture while we take the used furniture back to the Circulaire Hub. We also work closely with local makers and our sister company Presikhaaf Schoolmeubelen's social workshop."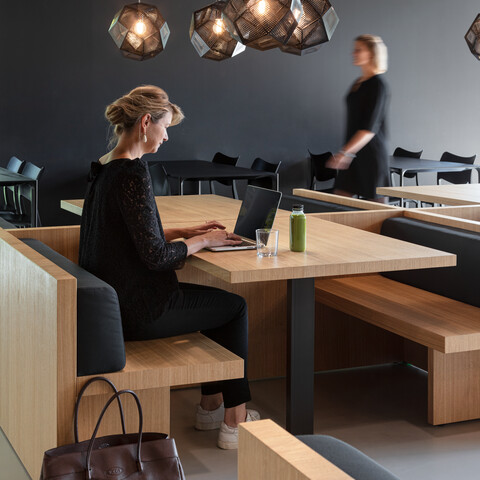 Would you like more information regarding this press release?
Please don't hesitate to get in touch.
Send us an e-mail