Triennial
Triennial is a modular, comfortable chair collection that allows you to create a pleasant atmosphere. The most striking feature of Triennial is the shell, which consists of two upholstered parts. Triennial offers great seating comfort because the 'separate' backrest fits snugly into the seat. The functionality is mainly determined by the type of base.
Designer Bernotat&Co
Versatility
Thanks to the wide selection of bases, you can give Triennial the functionality that is right for you. Bases are interchangeable, meaning you can use the chairs multifunctionally. The two upholstered parts of the chair can be upholstered in duo-tone. This allows you to create unique combinations that suit your environment. The chairs from the series go well with each other; the overall picture remains composed because your choices come from a single chair family.
Modular design, parts are interchangeable
Fully duo-tone upholstered shell
Removable cover
High level of seating comfort
Brushed chrome base
Hard gliders for soft floors
Universal castors for both hard and soft floors
Collection complies with EN 16139:2013
16 versions
Some versions stackable up to 4 units
2 types of armrests: metal or upholstered
Armrests upholstered in the same fabric as seat
Metal base lacquered black or white
Soft gliders for hard floors
Circularity
Circularity has been taken into account in the design of Triennial:
Acoustic panels are made from the fabric residues, so no waste
Wide choice of sustainable fabrics
Detachable cover
All parts are interchangeable and easy to replace
Triennial meets all your needs, now and in the future. The chair is easy to adapt to new needs when it comes to function or appearance - even after several years of use. This is possible due to the modular and universal components used in the chair. Adjustments can be made at your location.
'Welcoming someone with a friendly and personal gesture is just as important to us as offering a comfortable chair. To create this feeling, we designed a recognizable cushion-like shape on the backrest, a shape that everyone associates with comfort.'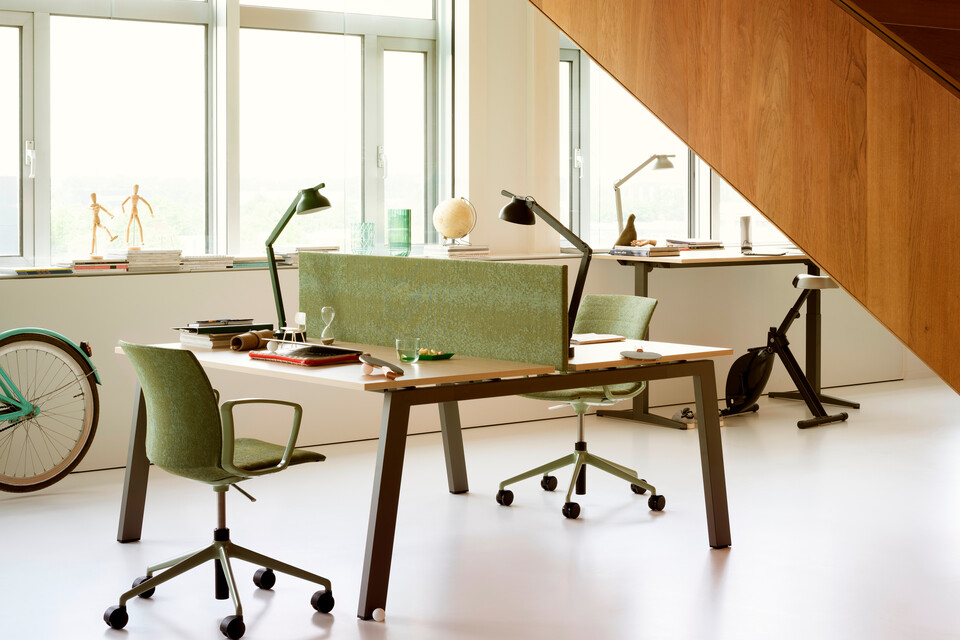 Wij denken graag mee!
Heb je een vraag of wil je meer informatie? Neem contact met ons op voor vrijblijvend advies
Neem contact op