Hybrid Classroom Table
The Ahrend hybrid classroom table is the smartest kid in the class. A piece of computer furniture designed with flexibility in mind, for both digital and traditional education. The table is particularly well suited to interactive teaching methods and digital assessments.
Designer Marck Haans
Flexible to use
The electric control enables switching the table between digital to ordinary use and vice versa in a matter of seconds. There's no need for a separate computer room as spaces can be arranged to better effect and with greater flexibility, leading to cost and space savings.
Neatly tidied away
With this functional design, the PC cabinet and cables are always neatly tucked away. This helps ensure a tidy and safe learning environment. Combined with the sturdy steel frame, this makes for a student-proof table.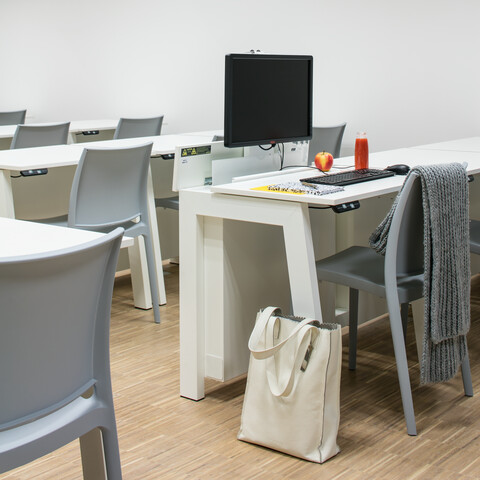 'The Ahrend hybrid classroom table allows me to combine digital and ordinary education in the same setting. It lets me provide education more effectively, and I save space at the same time.'
Head of Support Services, University of Leiden
Specifications
The basics

Sturdy steel frame
Suitable for most common 21" monitors (VESA mounting system)
Operated by high/low switch on user side or table side for convenience
Space at rear of table to mount PC with separate removable and lockable panel
Socket panel of 3 x 230V with GST connector
Equipped with Intelligent System Protection and Anti-Collision
Tabletops in 18 mm Monotop
Available in Ahrend lacquer colours
Options

Separate power circuits for PC and table operation, so that monitor can be adjusted centrally
Central cabling and switching to enable several tables to be operated at once
Headphone connector via separate cable
Cable management
Tabletop in 12 mm Ciranol in variety of styles
Dimensions

Width: 80 cm
Depth: 66 cm
Height 75 cm
Max. monitor dimensions: W 510 x D 60 x H 333 mm
Max. keyboard dimensions: W 490 x D 35 x H 190 mm
Max. (mini-)PC dimensions: W 177 x D 38.5 x H 176 mm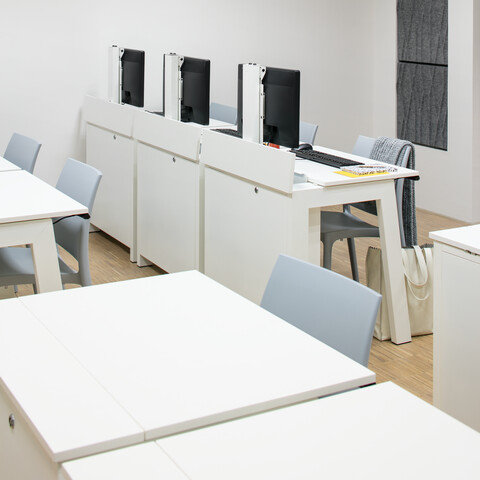 We would love to hear from you!
Do you have a question or would you like more information?
Get in contact