Flexbox
Create the perfect space-in-space solution in your open office. The Ahrend Flexbox is a transparent acoustic solution, ideal as a phone booth, concentration work space or meeting room. The solution is flexible and grows with your needs: the program is 100% modular, allowing all parts to be reused in other Flexbox solutions.
Design by Basten Leijh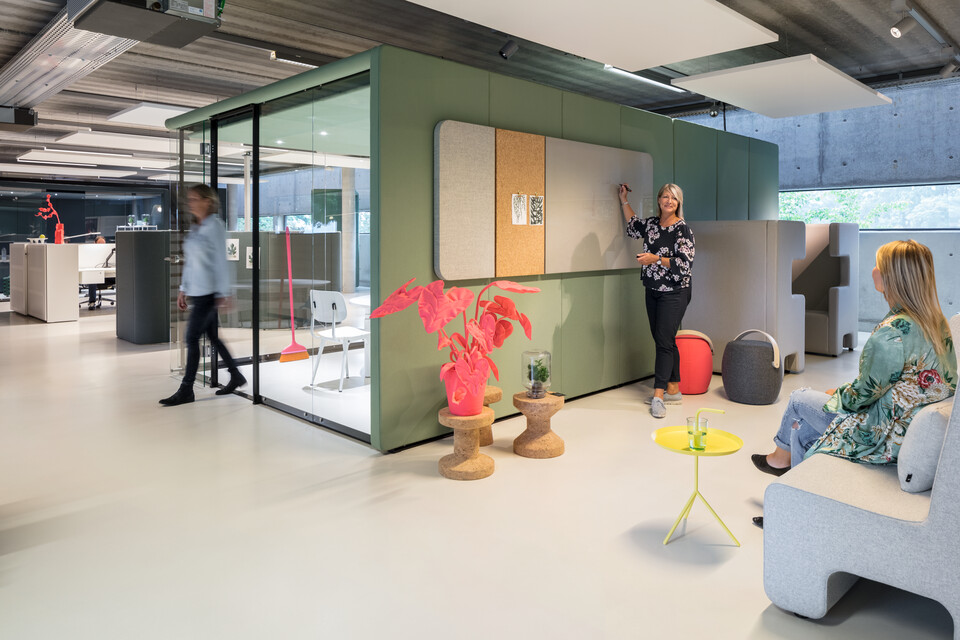 Ready for the future
With the Flexbox you're ready for the developing workplace. The furniture program is 100% modular. Changing needs make it easy to reuse parts in other Flexbox solutions. From phone booth to small meeting room. The panels are designed according to circular principles. This means that we only use sustainable materials, and will last several life cycles.
Choose your Flexbox
The Flexbox can be expanded with additional upholstered panels or glass walls. Expand in 80 cm wide stages to a maximum size of up to 17.9m². Perfect for a meeting room! With a wide choice of colours and upholstery you create a personalised look. The design of the Flexbox fits perfectly with the Ahrend Loungescape.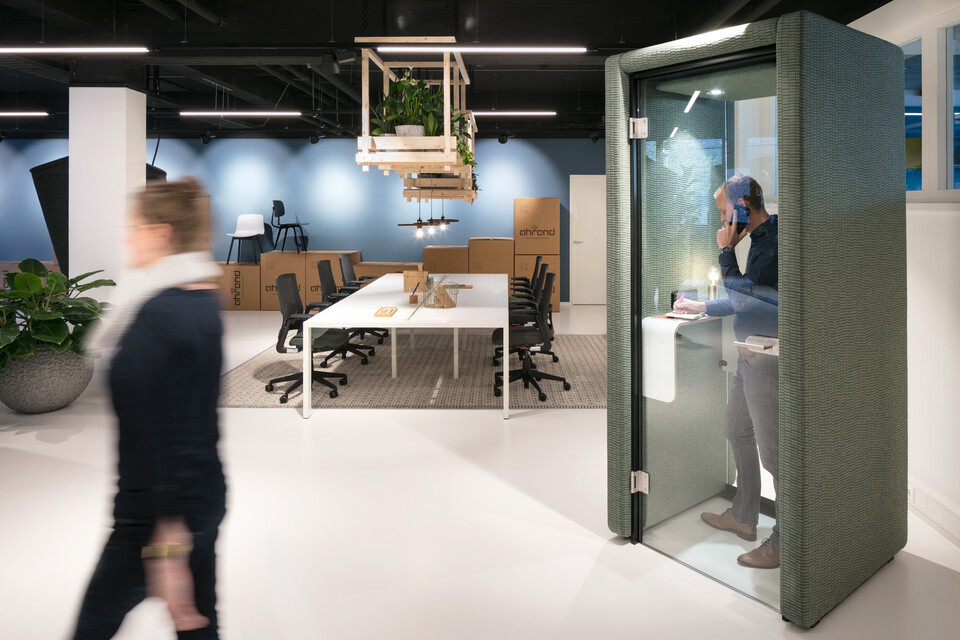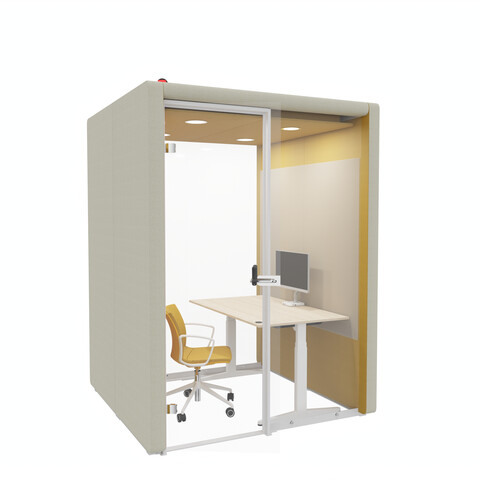 Videoconferencing
Video conferencing is growing in popularity as a means of consultation. In open office spaces the Flexbox enables this type of consultation to take place with minimum inconvenience for both the user and the immediate environment, so that everyone can remain focused on their work. The Flexbox can be equipped with video conferencing tools in order to provide the best possible conditions for remote consultation.
Responsible co-working
The modular Flexbox is a flexible space-in-space solution, which can be placed anywhere in the open office. It enables you to create space wherever users need it. The Flexbox can be fitted with a door mechanism that opens with the push of a forearm. Another option is a wipeable plastic screen behind the table. An in-use indicator which remains lit until the air has been adequately scrubbed by the inbuilt filters allows for responsible collective use. The Flexbox comes with a protocol for use and cleaning, as well as signage, to ensure compliance with hygiene measures.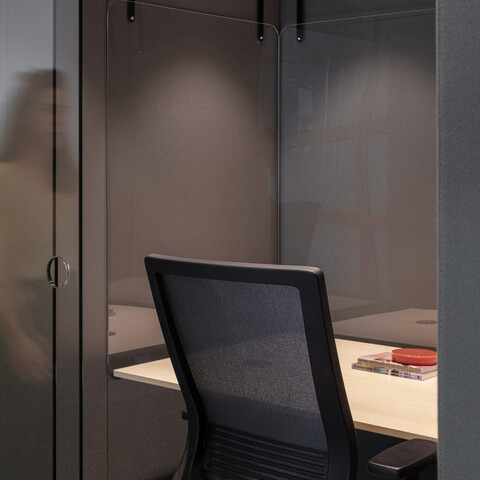 Perfect balance
Create a solution that stimulates personal comfort, creativity and productivity. The Flexbox offers a sound absorbing function, both inside the Ahrend Flexbox and in the space in which it stands. The combination of electrification, lighting and air circulation system means it is the ideal place to work.
Specifications
The basics

100% modular
Very easily mountable and demountable on location
Acoustic function, inside and outside
Standard equipped with electrification, lighting and air treatment
The options

Flexible to expand with upholstered panels and/or glass walls in steps of 80 cm wide to a maximum size of 17.9m²
Extensive choice of colours and upholstery
Additional options such as, booking systems, whiteboards, TV display/arm, LED lighting, fire alarm and sprinkler systems
Dimensions

Length and width: ranging from 80 x 80 cm to 320 x 560 cm
Interior Height: 225 cm
Exterior height: 240 cm
Panels: 80 cm wide